Drinks Maldives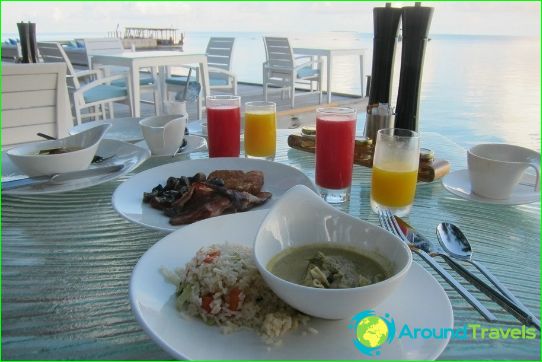 It refers fashionable holiday in the MaldivesArchipelago: white sand and ocean water a variety of shades of turquoise, magnificent sunsets and the highest level of service, privacy and romance for couples ... When it comes to drinks about the Maldives, many travelers believe that in this Muslim country is impossible to try alcohol, as all of it is prohibited.
Alcohol Maldives
With regard to the transportation of alcoholic beveragesMaldives, the skeptics are partly right: the importation of alcohol on the island is strictly prohibited. No alcoholic beverages, even in very small amounts Customs does not pass, and for the attempted fraud may penalize the imposition of large fines. Yet alcohol Maldives can try, because the desire to please the tourists locals succeeded no less than others. However, prices for drinks seem inhumane, even those who are not accustomed to count money too:
0.5 liters of regular beer stand at the restaurant $ 4-5.
Standard bottle imported from Chile or Spain wine is estimated at $ 30-50, depending on the quality.
Champagne is made in France, which is often bought the couple who chose the Maldives for honeymoon, "pulls" at $ 150-200.
The national drink of Maldives
The archipelago is particularly popular freshly squeezedjuices from various fruits. Resort - a paradise for fans of a healthy diet, and therefore we can say that it Fresh - the national drink of the Maldives. For breakfast, usually served freshly squeezed orange or mango juice. The Afternoon snack certainly includes papaya juice, banana, guava and coconut milk. By the way, fresh coconut - Maldivian symbol table. It is decorated with all the brochures and postcards from the islands.
Alcohol Maldives
For those who can not imagine a holiday withoutglasses of liquor or a glass of brandy, there is no reason to worry. Whereas alcohol is usually included in the price, but because at the hotel, you can relax to the fullest. Guests are offered a variety of alcoholic beverages in the Maldives, only they are made very far from paradise islands. Especially popular in the Maldives hotels Chile wine production, Argentina, Italy and Spain, English gin, Scotch whiskey and, of course, French champagne.
Photo