Resorts of Maldives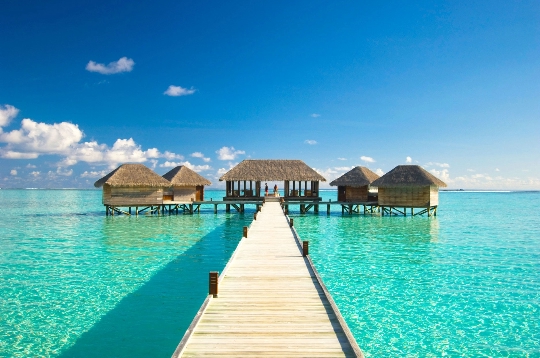 Wanting to feel like Robinson onthe lost desert island a direct flight from Moscow brings here in just eight hours. It lasts as flight to the resorts of the Maldives - an archipelago in the Indian Ocean, where the holiday is accompanied by only enthusiastic epithets. Maldives Resorts selected travelers who prefer not only the pristine beauty of nature, but also comfort and service, even if they have to shell out for a lot of money.
Romance on the atolls
More than a thousand islands make up the MaldivesArchipelago, which is very like to spend the lovers. Hotels in the Maldives resorts are kind of secluded bungalows chains, each of which can simultaneously accept only a limited number of guests. You will not find noisy crowds on the beach or on a buffet line at a restaurant. Everything is very individual, privacy and comfort for those who appreciate peace, tranquility and isolation from the world.
Maldives Resort Ideal for honeymoonmonths or vacation for those who prefer to enjoy each other's company without prying eyes. Despite some isolation from civilization, service and comfort in these bungalows have the highest class, and the level of training can be the envy of any hotel chain in the world's major capitals.
Always in the TOP
All Maldives resorts are very similar to each other, but some of them are especially loved by travelers of unique natural beauty and amazing service:
Island Ari Atoll - it's 26 resorts, eachof which is a chain of luxury bungalows standing on stilts right on the ocean. It made a leisurely swim in the warm clear ocean and some water to taste the best local cuisine, based on fresh fish and seafood.
Peace and quiet - the main guest requirementMeemu Atoll hotels. 130 km from Male International Airport to overcome these places less than an hour by seaplane, and lush tropical vegetation of the local islands slightly softens the heat even in the afternoon.
Wishes to save money and time on shuttleto the distant islands of the Maldives are choosing resorts in the North Male Atoll. Here it was built the very first hotels when travel business in the country is only beginning to develop. Proximity to the capital allows guests to make excursions on the Male or engage in interesting shopping in their spare time away from the beach.
Maldives - promo video
Photo