What to take to the Maldives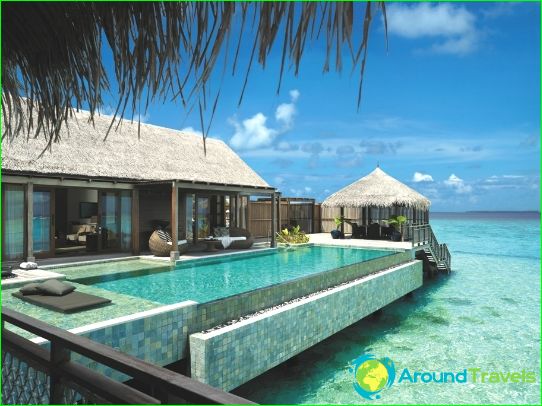 In the Maldives it is necessary to take only the most necessarythings. Suffice it to take a small bag to have a good rest. What to take to the Maldives, to feel free and easy? Seasoned travelers are advised to take a minimum of clothing. There is dominated by very hot weather. Therefore, beach outfits do not surprise anyone. Long clothing looks too formal. Despite this, on the beach you can not strip naked. Nudism is prohibited in the Maldives and threatens a fine of $ 1000.
What clothes will need
Going on a crowded island, should bewear shorts and medium-length shirt. Tourists should respect local customs. Therefore, we must not forget that Muslims welcome the conservative style of dress. The city is not roam too smart dress. The quality of clothes is worth to pay close attention. Avoid things made of artificial materials. In them you will suffer bad heat. It is best to choose clothes made of fine cotton. For everyday wear suitable casual style.
If you are planning a business meeting, thenyou need to tie. Jacket wear is not required. The choice of clothing depends on the resort. If you choose a luxury hotel, the dress code will require appropriate clothing. Choosing T-shirts and shirts, pay attention to the slogans, deposited on clothes. Very often provocative inscriptions cause misunderstandings. Optimum leisure footwear - sandals. They are easily removed and do not cause discomfort. If the trip is planned in the "off season", then grab a jacket from the rain.
Medicines and other necessary stuff
Medicines that you used to enjoyconstantly need to be at your fingertips. The bag must put your favorite shampoo, sunscreen, feminine hygiene products, cosmetics and contraceptives. Shops, mainly concentrated in Malé. In other places the tourists are invited to souvenir shops. If you have poor eyesight, and you wear glasses or lenses, bring your spare pair. Damage the glasses, you're unlikely to be able to order them in the Maldives. The girls have to bear in mind that beauty salons do not function at all resorts. Therefore, during the rest have to style your hair yourself. With a need to take a hair conditioner and other accessories to care for them. In the Maldives, there are many spa-salons that offer a variety of massages and exotic treatments. The cost of some of them is very high, but they are very popular. If you are on these sessions, admission should be arranged in advance.
Maldives - promo video
Photos essentials