Where to rest in the Maldives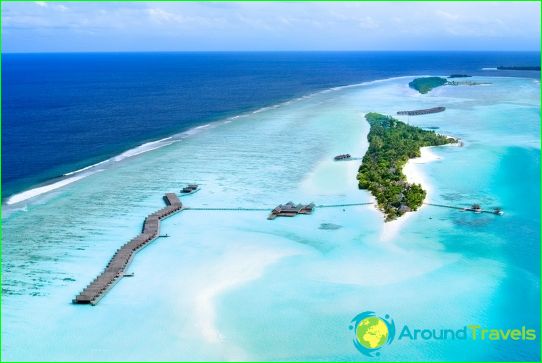 Maldives is located in the Indian Ocean justnorth of the equator and represent numerous islands. All year round, anyone will be able to relax in comfort in this uniquely beautiful place. Maldives resort area is very popular, prestigious and come here quite expensive. In the Maldives, you will certainly find yourself in a measured, far from the bustle of the world and forget about all the time, but where better to relax in the Maldives?
Maldives - a paradise for divers
If you have been fond of diving,you know exactly what is best for a vacation in the Maldives! Every year, thousands of divers choose to visit one of the hundreds of coral islands and happy to spend time exploring the endless depths of the ocean. Here, one can only wonder purity and transparency of water. The main attraction - the corals that form whimsical underwater city, ideal for the marine life.
Weather in the Maldives relatively quietand peaceful, but tourists often go to this place, it is advised to rest from December to March. So you definitely will avoid the rain, and the air temperature is 25-30 degrees.
What you need to know, resting in the Maldives
A trip to the Maldives will be remembered for a long time. Among the uninhabited islands, you are sure to find a suitable and feel like a hero of the book Robinson Crusoe. Going into this exotic region, it is good to know not only where to relax in the Maldives, but also other important points:
Since the islands have a small extent,this is reflected in the capacity of hotels. Most likely, you will be offered to settle in a two-story bungalows. The cost of living will depend on what is now the season. In the rainy season vacation much cheaper.
Local residents profess the religion of Islam, therefore,should respect their customs and traditions. It is strictly forbidden and punishable by heavy fines consumption of alcohol outside the resort area. During a walk around the neighborhood and visiting attractions need to wear a long skirt or trousers and shirt closed from natural fabrics.
Do not forget to bring the Maldives necessary medicines, as there buy their problematic. Pharmacies on the islands is very small, and the prices are much too high.
Sightseeing holidays
You will not regret if you visit the capitalState - Male. There are many interesting attractions: the famous tombs of saints, the National Museum, the Presidential Palace, the old mosque. Unusually look vegetable, wood and fruit market, where people from different islands to sell their products.
Relax on the fabulous island in the middle of the Indian Ocean will be a significant event in your life, and give a lot of different experiences.
Maldives - promo video
Photos holiday in the Maldives