Airports Martinique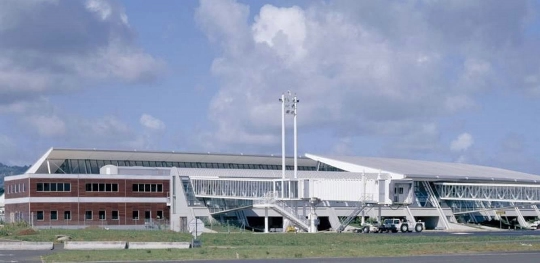 Far overseas department of France in the turquoisewaters of the Caribbean Sea, the island of Martinique is most often flashed on the list of tourist destinations of Americans and Canadians. Yet the long-range flight and not too humane ticket prices do not scare away fans and a Russian luxury beach holiday in the lap of virgin nature combined with excellent service first-class hotels. So the airport Martinique often sounds and Russian speech.
Hop on overseas wonderful island will take at least11 hours, without taking into account the time for docking. Direct flights from the Russian capital Fort-de-France in the schedules of the airlines of the world do not have, but on the wings of Air France here you can easily reach with a stopover in Paris. True time on the dock need to establish a reserve - an Air France flight from Moscow to Paris, landing at the airport Charles de Gaulle, and flies to Martinique from Orly Airport. In the presence of American or Canadian visa can fly through Montreal and Miami, and the Cuban pilots gladly deliver passengers from Russia through Havana.
The international airport of Martinique
The only air harbor in Martinique is located on the outskirts of Fort-de-France. The city where the airport is located, is situated on the south-west of the island, on the banks of the same bay of the Caribbean Sea.
Air port is named after politician Aimé Césaire. Its opening took place in 1950, and today it has a runway length of 3000 meters, able to take large aircraft, including - freight rail.
Destinations and Services
Based at the airport airline Martinique -Air Caraibes and Air Antilles Express. They make daily flights to Guadeloupe, St. Lucia, Puerto Rico, Dominican Republic, French Guiana, Haiti, Saint Martin and Paris.
Foreign air carriers are also presented on the airfield airport Aimé Césaire:
The boards Air Canada fly to Martinique from Montreal, Canada.
Air France connects your overseas department with Paris.
American Eagle operate regular flights to Miami, Florida.
Condor organize charters to Frankfurt.
Cubana de Aviacion - carrier for those who want to get to Martinique via Liberty Island.
LIAT fly to Barbados and St. Lucia.
Norwegian Air Shuttle operate seasonal flights to Baltimore, Boston and New York. These flights appear in the calendar of the airport in Martinique in early December.
For passengers awaiting departure terminaloutdoor cafes and bars, souvenir shops and a hairdresser. Our people can buy flowers at the florist, and guests of the island - rent a car and currency exchange services of the euro is the only legal tender on the island.
Transfer to the city and the resorts of Martinique is possible by taxi. Often guests bought it and in hotels where it is supposed to stay on vacation.
Photo