Islands Martinique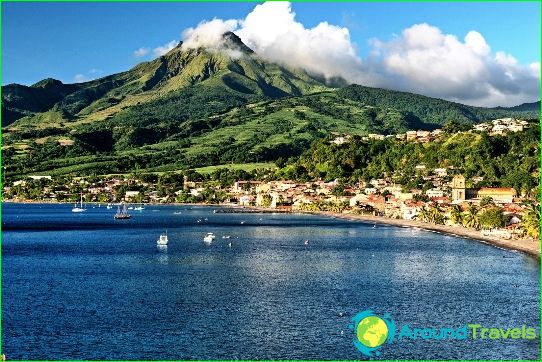 Martinique is an overseas departmentFrance. It included are one main island and a large number of small ones. Martinique Islands occupy a total area of ​​about 1128 square meters. km. The main area of ​​land in that department - Martinique, different volcanic origin and picturesque nature.
The island of Martinique is one of the WindwardIslands in the Lesser Antilles archipelago. It is bordered by the Atlantic Ocean to the east and the Caribbean Sea to the west. The island of Martinique has an oval shape and highly rugged coastline. There are many coves and bays that are perfect for boats of parking. In the coastal area there are many islets and rocks. Among them are the rocks of Le Febvre, La Mize, Le Douz and a miniature island Ramvil.
Historical information
Martinique Opened in 1502 by Christopher Columbus. Before the arrival of Europeans here inhabited island Caribs. In Martinique, there are no large reserves of natural resources, including gold. Therefore, this area of ​​land at first little interest in Spanish.
The first settlement in Martinique - Saint-Pierre,founded by the French in 1635 The indigenous population was wiped out quickly, and the island began to import African slaves to work hard. Martinique has repeatedly been attacked by the British, but the French again returned it yourself. As a result of powerful volcanic eruption of Mont Pele in 1902, almost the entire population of Saint-Pierre was destroyed.
general characteristics
Currently, Martinique remains under the authority ofFrance. The population of the overseas department of close to 400 thousand people. Among the locals dominated by negros and mulattos. It is also home to Arabs, Indians and Europeans. On the islands of Martinique use French as a state, but the indigenous population often uses Creole. The administrative center is the city of Fort-de-France, which occupies the western part of the main island.
The economy is based on the overseas departmenttourism. Getting to Martinique can be by sea or air. The largest port on the island is considered to Fort-de-France, which regularly receives flights of passenger transport.
Weather
Martinique Islands are located in the area of ​​influenceEquatorial tropical climate. The temperature ranges from +24 to +27 degrees. From July to November and the rainy season here lasts. It happens here and hurricanes, typical for the entire Caribbean region.
natural world
The fauna of the islands does not differ diversity. Fauna is represented by small rodents, snakes and birds. The coastal waters are rich in crabs, fish of commercial species, squid and clams. Martinique is famous for its beautiful nature. The island is literally immersed in tropical plants.
Photo