Diving in Mauritius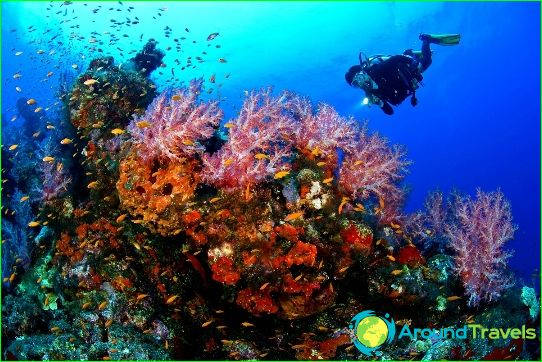 Diving in Mauritius - is crystal clearwaters of the Indian Ocean, the magnificent underwater landscapes, islands and coral aquarium created by nature. In short, it is an unforgettable experience.
Cathedral
The average depth of the dive site 22 meters. It is a couple of cliffs whose surface is riddled with crevices. And the name of the site - "Cathedral" - gave a huge cave, internal arches that miraculously recreate the interior of the temple.
Couline-Bambou
The average depth is 25 meters. Very beautiful underwater landscape, represented by stone bridges, crevices and tubes, became the residence of many marine species. Here you will meet the tuna swarms of hovering near the surface spotted rays and curious reef sharks.
Shark Place
Site name means "dwelling sharks." Here, at a depth of 45 meters you can see not only these marine predators, and barracuda and tuna.
Rempart Serpent
His name - "Snake tree" - the dive siteI am obliged to huge rocky shaft, located at the bottom and extends as much as 100 meters. When diving creates a feeling that there lay down to rest at the bottom of a huge sea serpent.
Stella Maru
This wreck is a Japanese fishing trawler,which has been specially flooded in 1987. Nothing special, in terms of vegetation, you will not see here, but here are moray eels, Scarpa and fish-stones huge set here.
Peter Holt's Rock
Average depth - 18 meters. The dive site is a basalt rock, which appeared in the result of a past volcanic eruption. Crevices and caves hide many representatives of the underwater world.
Pointe Vacoas
Depths Dive Site hide beautiful underwaterlandscape. Local coral gardens became home to the starfish with a huge size, unusual fire fish. And in the season, which lasts from August to September, you can even swim with dolphins.
Me Plate
Crave extreme and adrenaline in the blood? Then you here. Here you will find a huge shark community. But to get into the cave, it is necessary to accurately calculate the time input - the period of the tides, the output - along with the tide. Entertainment exclusively for experienced divers, but the thrills are guaranteed.
Blue Bay
Nice dive site with a maximum depth of 7 meters. Very beautiful coral gardens will delight the eyes and dive in the lagoon possible using only flippers and mask.
Sirius
Another wreck. "Sirius" - the British ship, gone to the bottom even in 1810. It is located at a depth of 18 meters.
Colorado
The dive site is beautiful underwater canyon, located at a depth of 33 meters. 400 meters from the spectacular landscape created by nature amphitheater.
Photo