Mauritius Flag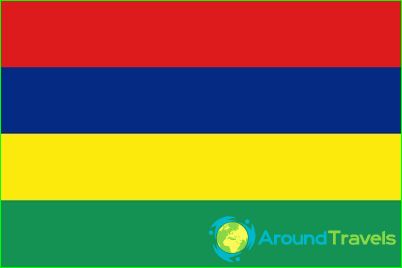 State flag of the Republic of Mauritius for the first time has taken its place in the official flagpoles in March 1968, when the country became a member of the British Commonwealth as an independent state.
Description and proportions of the flag of Mauritius
Flag of Mauritius has a classic rectangularshape. Its length and width correspond at a ratio to each other of 3: 2. It is allowed to use for all purposes on land and citizens, and ground forces, and civil society organizations.
The flag Mauritius flag is divided horizontallyfour fields of equal width. The top stripe flag - bright pink, followed by a dark blue and yellow. The bottom margin of the flag of Mauritius has a light green color. Red color on the Mauritius flag symbolizes the independence of the country, and yellow - bright future towards which the people inhabiting the island in the Indian Ocean. His important role resembles a blue stripe on the flag. The green part of the flag - it is a rich vegetation of Mauritius, its forests and fields.
For use on ships in the statedeveloped their own flags. The merchant fleet has a red cloth. In Kryzhi in the left corner near the staff are located at the state of the flag of Mauritius image, and on the right side - the country's coat of arms, inscribed in a white circle. Government vehicles are identical to the flag differs only general background blue color.
History of Mauritius flag
During the period of British colonial ruleMauritius country raised the flag, which was typical of all overseas possessions of the English throne. Since 1906, he had a dark blue color in the upper left quarter of its location was the UK flag, and on the right - the coat of arms: first - Her Majesty, and later, in 1923 - a colonial possession.
In 1967 he was first introduced to the flag projectMauritius. Its members have developed Heraldry guild Britain. The basis of color of the coat of arms of Mauritius were adopted, which had existed since 1906 and was taken to King Edward VII.
Mauritius Coat of Arms Heraldic Shield with supportboth sides of the dodo bird and deer. The shield is divided into four fields of blue and yellow, in each of which is important for the put Mauritius symbols. Sailboat symbolizes the arrival of Europeans on the island, palm trees reminiscent of the country's position on a map. The star and the key - it is a graphic representation of the motto of the islanders, who feel their country star and key of the Indian Ocean. On either side of the shield located shoots of sugar cane, which is one of the main export products in Mauritius.
Photo Mauritius flag