Traditional cuisine of Mauritius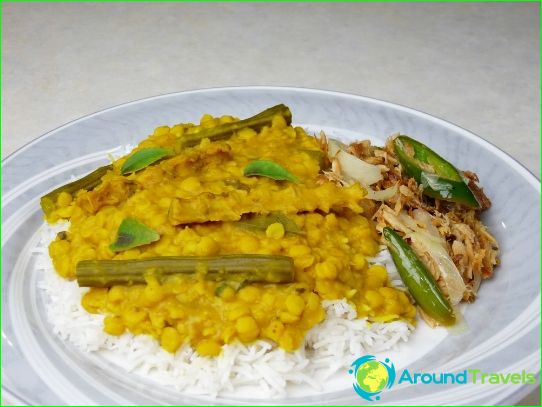 Dining in Mauritius is characterized by the fact thatapart from national dishes on the island you will be able to try the Creole and Indian curries, English roast beef, French pepper steak, as well as exotic fruits and all kinds of seafood.
Food in Mauritius
On the Mauritian cuisine strongly influenced by African, Chinese, Indian, European, Chinese culinary traditions.
The diet of the inhabitants of the island consists of meat,fish, rice, seafood, vegetables, sauces. The most popular sauces on the island: scold (the sauce, which is based on rice, onion, garlic, seafood, ginger, tomatoes, a mixture of peppers: they complement meat, salted fish, sausages), Curry (sauce, which is based on tomatoes, onions, garlic , turmeric, cinnamon, nutmeg, cloves, pepper, coriander, cumin, tamarind leaves: it is fed to shrimp, to venison, monkey and wild boar), vindaye (sauce made from vegetable oil, mustard, ginger, vinegar, cayenne pepper, onion, garlic: they complement the fish and octopus dishes).
In Mauritius, it is worth trying red mullet, yellowtuna or fish-captain, grilled; Shatin (pesto with vegetables and fruits with the addition of spices); shark fin soup; Palmetto freshwater shrimp in hot sauce (camarons); salad of cabbage palm; smoked fillet of blue marlin; a casserole of oysters.
Where to eat in Mauritius? At your service:
restaurants, offers dishes of different cuisines of the world (there are open African, Thai, Chinese and other restaurants);
cafes and tavernas;
"Name" restaurants of famous chefs - Vineta Batia and Alain Ducasse;
fast food outlets.
Drinks in Mauritius
The most popular drinks are the inhabitants of the island of coffee, lassi (yogurt with water and ice), Aluda (milk with spices and agar), fresh coconut milk, white Mauritian rum, beer.
If desired, can be found on the island of mineral water and a good imported wine.
Gastronomic Tour to Mauritius
You can go on a gastronomic tour"The taste of Mauritius". In this tour you will take a trip on a sightseeing tour in Port Louis, visit the Pamplemousses Botanical Garden and the market in Port-Louis, accompanied by the chef.
In addition, lunch and dinner you will bevarious restaurants, local specialties, as well as take a trip to the rum tasting and a tea factory, you're done with cooking classes (upon completion you will receive a certificate and learn how to cook fish, meat dishes and desserts of the national cuisine).
Mauritius Holidays give you an unforgettableimpressions of a beach holiday (warm ocean + silk sand), diving (amazing underwater world), wonderful nature (virgin islands, national parks, extinct volcanoes, waterfalls) and culinary delights (original and delicious local cuisine).
Photos of Mauritius national dishes