Holidays in Mauritius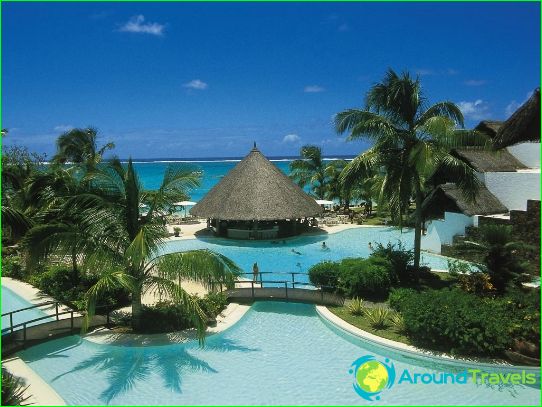 Mauritius Holidays - a riot of tropicalgreen, white beaches, golf courses, endless blue lagoons, high level of service ... This rush couples to take part in the wedding ceremonies, as well as divers and fishermen.
The main types of holiday in Mauritius
Beach: a great place for recreation can be a beach in Flic-en-Flac - the white beach has gentle entry into the water and dive here, you can almost coast.
Active: Anyone will be able to go to the ocean fishing, diving (in the Indian Ocean waters are inhabited by sea eagles, barracuda, blue marlin, white-perye sharks, which means you will be able to meet with them, as well as swimming at coral gardens) and surfing.
Sightseeing: the excursions you will be offered to visit a tea factory and Museum of Indian Immigration, stroll through the Botanical Garden of Pamplemousses, visit the salt mine, go, "the black river gorge" in the National Park, in the village of Chamarel, waterfalls Grande Rivière Sud Est.
Event: to coincide a trip to Mauritius to conduct a variety of holiday events, everyone can have fun at the celebrations of the Chinese New Year (January-February), spring festival of Holi (March-April), the International Festival of the Creole culture (November-December).
Prices for tours to Mauritius
Rest in Mauritius is best in November and April. Tours to Mauritius are expensive, and in this period, particularly in the New Year holidays, prices for tours reach their maximum price.
Your goal - to save? Plan your trip to Mauritius in the low season - in May, August and September. In these months, the island comes not so many tourists, so the prices on tours a bit down. In June and July, too, you can buy tours at competitive prices, but rest in this period may darken due to gusty winds, but if you - a fan of kite and windsurfing, then for you it may be the best time for rest.
On a note!
Since Mauritius is characterized by "whimsical"weather, then it is advisable to have on vacation easy things, raincoats and parkas. In addition to these items should be packed in a suitcase beach slippers (quite often come across the wreckage of coral), sunglasses and cream.
In Mauritius, increasing drug grass and oftenits uncontrolled selling on the beaches - if you do not want to pay a huge fine or immediately go home, it is not something that should not be consumed, but just to have it among their stuff.
Returning to his homeland, it is worth considering that the island can not remove corals and items raised from the seabed illegally.
In memory of the holiday in Mauritius is to bring models of ancient ships, basketry and pottery, jewelry made of onyx or coral, tea, electronics.
Photos holiday in Mauritius