Mauritius Island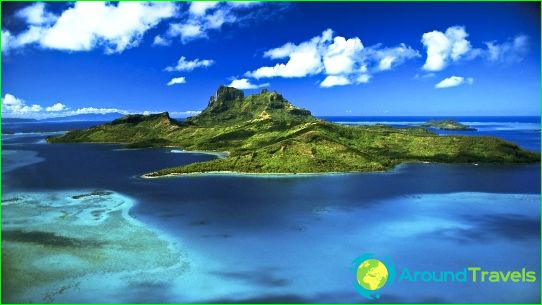 In East Africa, is picturesque islandstate - the Republic of Mauritius. It occupies a small area of ​​land in the southwest Indian Ocean. From Madagascar, it is separated by 900 km. Mauritius Island is the largest land area in this region of the ocean. It includes a large group of the Mascarene Islands.
The island of Mauritius is about 1900sq. km. It emerged after the eruption of volcanoes. His relief is smoothed winds, humidity and temperature changes. Mauritius removed from Africa at 3000 km. By Makarenskim islands except he still rank Kardagos Carajos archipelago and the island of Rodrigues and Agalega. The composition of the State of the Republic of Mauritius includes the above-mentioned islands. The total area of ​​the country is 2040 square meters. km. Mauritius is the country's capital - Port Louis. Mauritius was discovered by the Portuguese in the early 15th century.
relief Features
Mauritius was formed on the site of the volcano, whichI have long ceased its activity. Relief land was flattened under the influence of natural factors. On the island lies the central plateau of Curepipe, which adjoin the other plateau. The highest plateau of Savannah is the highest point - the peak of Rivière Noire, located at an altitude of 826 m Plateau islands are surrounded by plains, where the local population is growing cane.. In Mauritius, sugar cane plantations cover more than 45% of the total area. In the coastal area there are many coral reefs.
climate Features
Mauritius is in the field of maritimetropical climate. Over Indian Ocean cyclones are generated periodically. Every year on the island of land descend powerful winds. Their speed is often 220 km / h. There are frequent flooding due to prolonged rainfall. At the same humidity in Mauritius is lower than in many other tropical islands. Therefore, the local climate is well tolerated by Europeans.
The cyclones destroyed crops in Mauritius. Powerful pressure element can withstand only sugar cane. The warmest month is February, when the air temperature reaches 23 degrees on the coast. The coldest month - August, during which the temperature is 19 degrees. This favorable conditions for growing sugar cane. Other crops (tea, agave, tobacco) are planted only in mountainous areas.
Mauritius Nature
The Republic of Mauritius is different paradisiacal landscapes. Flora includes over 700 species of plants. However, many of them have almost disappeared because of intense activity of people. Mauritius Island is famous for its rich marine life. In coastal areas, found a lot of colorful tropical fish, mollusks, crustaceans, and others. In the deep sea there are wrecks that were there in the 17th century.
Pictures of Mauritius