Cruises in the Mediterranean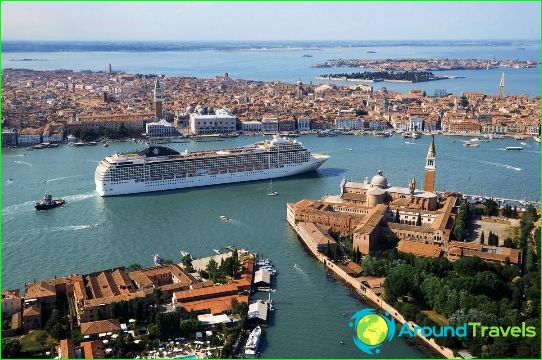 Mediterranean is not only one of the biggeston the planet. The popularity of the region among the tourists due to the interesting countries and cities located on the Mediterranean coast. Stops at different ports, familiarity with cuisine and buy souvenirs, visit the most interesting sights and photo shoot on a background of the architectural monuments of world magnitude - it is only a small part of entertainment that await travelers on cruises around the Mediterranean.
For the cruise is no bad weather
The distinguishing feature of cruises in the Mediterraneansea ​​- all season. This region is famous for its pleasant climate all year round. Even winter Christmas holidays on board a seagoing ship held in a warm atmosphere, and in the spring or early autumn this journey turns into an amazing adventure and the best rest.
Modern sea cruise ships - isfull entertainment comfortable tourist complexes. On board everyone will find something interesting and exciting classes. Here you can play tennis and swim in the pool, soak up the sun or to taste the best dishes in cafes and restaurants, to dance and listen to music.
Crossing Europe
Cruises around the Mediterranean make it possiblevisit several countries for one trip and get acquainted with the most important sights during the tour. Tunisia and Malta, Greece and France, Italy and Cyprus - went down to the shore at ports located on the hospitable shores of the Mediterranean, travelers will learn about the traditions and customs, traditional crafts and cuisine features.
Routes of cruises on the Mediterranean -varied and exciting, and the cultural program takes into account the wishes and preferences of today's travelers. For those who can not stand monotony and seeks to discover every day something new for yourself, this kind of leisure is the most preferred and interesting.
Constellation attractions
Mediterranean washes over twenty countries,each of which is worthy to become the main jewel in the necklace of the route for a sea cruise on a comfortable liner. East Magic Secret will open on the shores of a mysterious traveler Tunisia and motley gypsy charm of Spain will give delight of flamenco rhythms and incomparable architecture of Gaudi. The bustling port of Marseille you can enjoy the fragrant bouillabaisse, and on top of the Acropolis of Athens to admire the immortal creations of ancient Greek architects.
Photo cruises in the Mediterranean