Airports Monaco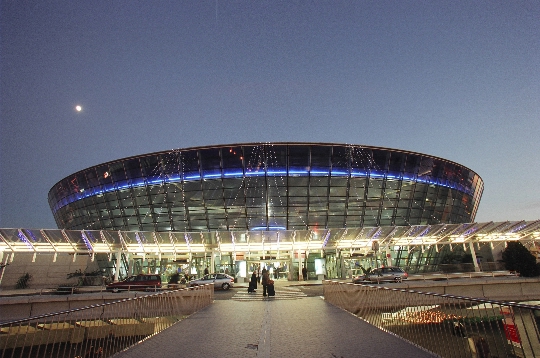 A small European principality famous for itsthe casino and the famous Formula 1 track. And yet there are parked only luxury yachts and cars, which even just view it is nice. The sense of impending luxury is present at the airport. Monaco does not have its own, but the one in Nice - near to it and the best on the Mediterranean Riviera.
Russian wishing to pull the tail of luck inCasino Monte Carlo fly to Nice Airport on the wings of "Aeroflot" and Air France. Their sides are flying daily from Moscow, spending on road only 4 hours. For flight suits and Parisian airport - Monaco in this case is a few hours' journey by train.
International Airport and Monaco
Dwarf states simply nowhere to placerunway - it covers an area of ​​just two square kilometers. Neighboring Nice kindly came to the rescue, and the airport 7 km to the west of its center caters for all those wishing to visit the Principality and the Monegasque returning home or traveling the world on business.
Airlines and destinations
The third passenger traffic airport in France are regularly arriving aircraft carriers from many different cities in the world:
AirBaltic provides connection with Riga.
British Airways fly to London.
Brussels Airlines connects Monaco with Brussels.
Iberia Airlines operates scheduled flights to Madrid.
Estonian Air operate between Nice and Tallinn.
Ryanair provides flights to several European cities on a budget.
Swiss International Air Lines have in their schedule more flights from Geneva and Zurich.
SAS fly in Scandinavia.
Lufthansa traditionally brings to the airport and to Monaco Roulette fans from Frankfurt.
Air Canada makes transatlantic flights from Montreal.
TAP Portugal introduces the charms of the Côte d'Azur's most western Europeans.
Emirates gives the opportunity to enjoy the racing in Formula 1, even Arab sheikhs.
UIA help Ukrainians to see not only black, but also the Mediterranean Sea.
Terminal 1 at Nice Airport receives international flights and the main responsible for the Russian direction. The second terminal is used for transportation of French compatriots in their cities and villages.
Transfer and Services
While waiting for the flight at the airport of Monaco can bea meal in the restaurant and buy a French cognac or perfume in the Duty Free. Arriving in Nice, the easiest way to rent a car and go from the airport to Monaco at the edge of the Côte d'Azur. Even battered travelers find the track La Corniche one of the most beautiful in the world. 20 km can be covered within half an hour, if not distracted by photographing the amazing landscapes, opening the path.
Transfer to public transport is accessible by train from the station Nice Riquer or bus N100, leaves every 15 minutes from early morning until 20.30 from Piazza Garibaldi in the heart of Nice.
Photo