Monaco Coat of Arms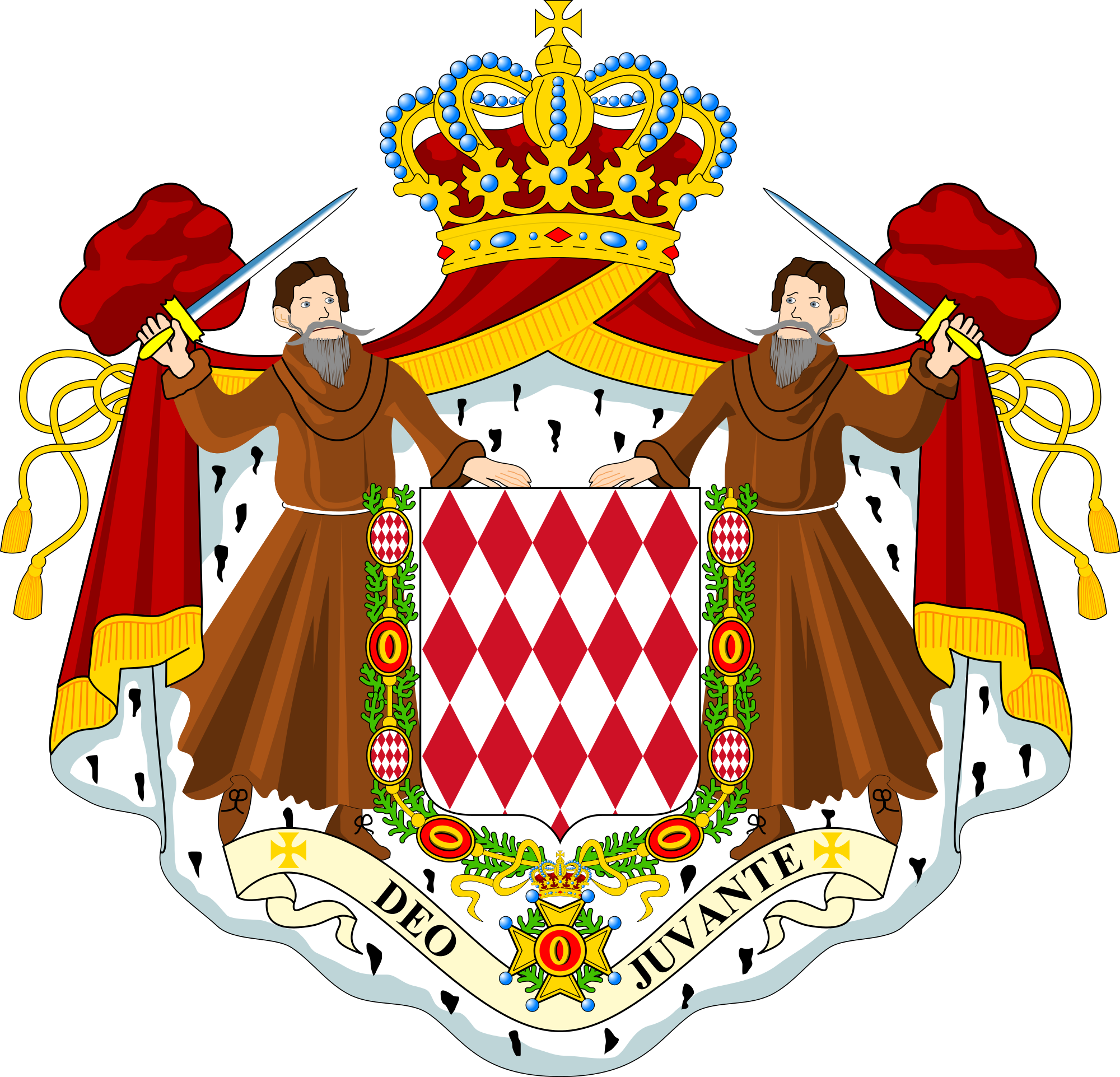 The tiny state located in the centerEurope in the shadow of France is, however, a very long history, in which there were battles and victories, achievements and failures, periods of prosperity and decline. If you carefully consider the coat of arms of Monaco, you can see the reflection of important historical events.
Royal coat of Arms
Officially, the main symbol of the country looks very pathetic, solemn thanks to the royal colors and symbols. Among the main components of the emblem of the country stand out:
shield divided into fields;
chain and the Order of Saint Charles;
Supporters in the image of monks;
princely crown;
mantle.
The dominant colors are - scarlet(Red), silver (white), gold (yellow). Also present in some detail blue, green, black. Scarlet, the second main color Duchy coat of arms, a symbol of courage, fearlessness, courage. The presence of silver, one of the two heraldic metal symbolizes purity, chastity, generosity.
Essential elements
The centerpiece of the official symbol of Monaco allocated shield having a classical form. It is divided into sectors, in the form of diamonds scarlet and silver.
Supporters of the country is not quite familiar emblem- Two monks dressed in robes and armed with swords. The appearance of these warlike character in Monaco symbolism is not accidental. They are a reminder of the historical events that took place in 1297, when the territory of this state was conquered by the soldiers of Francesco Grimaldi.
He used a stratagem, tothe operation was successful, the soldiers were disguised in monk's robes. Thus, the army of the enemy did not expect the offensive, the Grimaldi dynasty won and became the rule in the country. As a sign of this in the modern coat of arms of the country there was the motto of the dynasty, it was written in Latin and translated as "With God's help."
Order of St. Charles
Another interesting detail of the coat of arms of the principality -Order of St. Charles, the chain that surrounds the shield. Order refers to the highest state of Monaco awards, it has five degrees and is awarded for special merits to the state.
Princely crown is made of gold, decorated withprecious stones, sapphires and rubies. It is crowned by a composition, background for the emblem was the beautifully draped gown, it is made of red velvet, lined with precious fur ermine and decorated with gold fringe.
Photo