Traditional cuisine Monaco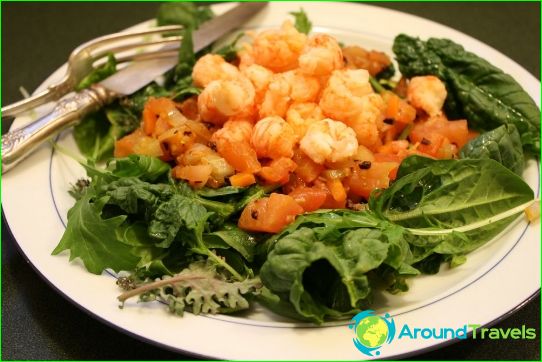 Food in Monaco is characterized by the fact that itmini-state does not have its own national cuisine: local establishments offer its visitors enjoy French, Italian and other European cuisine dishes.
Food in Monaco
Diet Monegasques make seafood, olive oil, fish, herbs, a variety of cheeses (mozzarella, roquefort, gruyere, pecorino), vegetables and root crops.
In Monaco, should enjoy a ragout of vegetables(Ratatouille); steak with potatoes; fish soup bouillabaisse; veal stew; dried cod in tomato sauce (stokafi); pancakes with peas and chicken (socca); cake stuffed with pumpkin and rice (barbagiuan); fried tortillas filled with cheese and seasoning; ravioli (meat, fish, spinach, mushrooms and cheese); balls of mashed potatoes in melted cheese (gnocchi); pie with anchovies, onion, tomatoes and olives (pissalader); "Brousse" (cheese with garlic and herbs).
A sweet tooth should eat orange pies with almonds and anise seeds (fougasse); fresh, pickled and candied fruit; black nougat, chocolate and macaroons.
Where to eat in Monaco? At your service:
cafes and restaurants;
coffee shops and pizzerias.
If your goal - to enjoy Frenchcuisine, visit the restaurant "Maisonde Chavier", and for the international cuisine (Greek, American, French, Asian, Russian cuisine) to the restaurant "Les Pergolas".
Drinks in Monaco
Popular Monegasques drinks - coffee, champagne,wine, Le Pastis (anise liqueur). If you decide to book local restaurants champagne, note that the cost of 1 glass of up to 50 euros.
Gastronomic Tour in Monaco
Embark on a gastronomic tour in Monaco, youtaste the typical sweets, the famous pea cake, snacks, anchovy paste, tomato, olives and peppers, as well as taste the wines of different varieties. If desired, you can learn to cook French cuisine, enrolling in a master class.
And embark on a gastronomic journeyMonaco by helicopter, you will visit the best restaurants in the territory of the Principality of Monaco (flight time - half an hour, after which the helicopter will you expect as many as you need in order to enjoy delicious dishes). For example, in the restaurant "Chez Bruno" (the city of Lorgues) you can taste excellent dishes of truffles, and the restaurant "Le Gril" (it is located on the top floor of the Hotel de Paris) - Mediterranean cuisine and a variety of desserts.
Monaco - a high-speed luxury cars, the Grand Prix, "Formula 1", snow-white yachts, luxury hotels, a casino, the best beaches, tennis tournaments, tasty and delicious dishes.
Photos Monaco national dishes