Traditional cuisine of Mongolia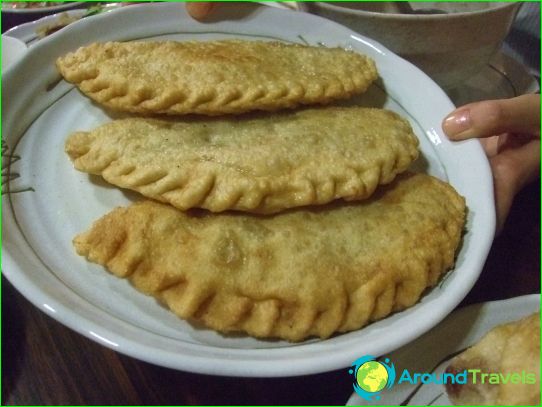 Power in Mongolia is characterized by the fact thatmany national dishes quite fatty, so going on a holiday in Mongolia, it is advisable to take with a medication, avoid the unpleasant consequences after a hearty and satisfying meal.
Food in Mongolia
Mongolian food diet consists of milkproducts, meat (goat meat, beef, mutton, horse meat, camel meat and marmot), fish, vegetables, fruit, bread. Local dishes are often seasoned with saffron, nutmeg, pepper, bay leaf, onion and garlic.
The traditional Mongolian dishes areboiled mutton with lots of fat, rice or pasta. It is worth noting that the meat in the country decided to use undercooked to preserve vitamins in this product.
Milk - popular among Mongols product theydrinking not only in pure form, but also use it for other purposes. For example, the mare's milk are used for the manufacture of koumiss and vodka, and sheep and cow - for the production of oil and Varentsov.
In Mongolia should try to steam dumplings( "Buuzy"); lamb, roasted from the inside with hot stones ( "boodog"); patties stuffed with meat - beef or horsemeat ( "Khashuri"); jerky ( "champions"); blood sausage ( "tsusanhiam"); noodles with meat. If you - a fan of a healthy diet, pay attention to the milk and milk products - yoghurt, ayran, mare's milk, cheese (fresh and dried "aaruul").
Where to eat in Mongolia? At your service:
restaurants and cafes with national and European cuisine;
restaurants with cheap and tasty Chinese food;
Fast food restaurants (KFC).
Drinks in Mongolia
Popular drinks Mongols - tea with milk,mare, "arch" (vodka made from mare's milk), "airag, dornogovi" (home brew). From local beers worth trying "Seŋir", "Genghis", "Borg", and of the varieties of vodka - "Golden Genghis", "Genghis Khan", "Soyombo".
Gastronomic tour in Mongolia
If you go on holiday in Mongolia for youorganize fishing in ecologically clean places - you will not only enjoy fishing, but also taste the dishes of sturgeon, salmon and whitefish, characterized by high taste qualities (if you do not want to fish, you just can enjoy the untouched nature, pristine clean lakes and rivers). In addition, you will be able to get acquainted with the life of the steppe nomads.
Rest in Mongolia will give you endlesssteppes, pristine lakes, excellent opportunities for active pastime (caravan and Car Tours, fishing, hunting, archery, trekking), magnificent monuments of Buddhism, incredible hospitality and generous cuisine.
Photos of Mongolia national dishes