The population of Mongolia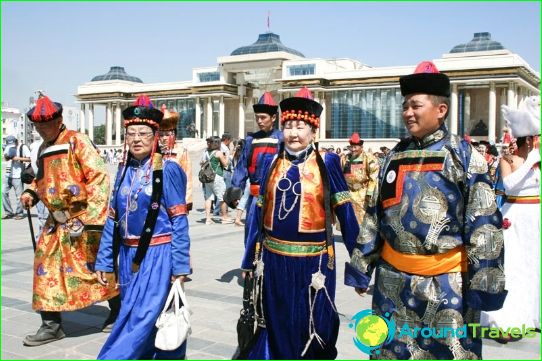 The population of Mongolia is more than 2.9 million people.
Previously, the area was inhabited Mongoliatribal alliances hunnu Zsuzsanna and Xianbi. The Mongols appeared here in the I millennium BC - They were a small tribe that lived on the banks of the rivers Onon and Kerulen.
December 1, 1911 - a special day for Mongolia in the day it was proclaimed an independent state.
National composition:
Mongolians (85%);
Kazakhs;
other nations (the Buryats, Durwood, Dariganga, zakhchin, Chinese, Russian).
In the 1st quarter. km for 2 persons, but the most densely populated Ulaanbaatar (population density of 162 persons per 1 sq km). Most people inhabit the mountain areas and large river valleys (more than half of the population still live in yurts).
The official language is Mongolian.
Big cities: Ulaanbaatar, Darkhan, Erdenet.
Residents of Mongolia profess Christianity, Buddhism, Islam.
life expectancy
Male population on average live to 65, and women - 69 years.
Men aged 15-49 are dying by 2.5 timesmore often than women in the same age category (the reason - alcohol and injuries). In this regard, in 2014 the health minister issued an order to establish a working group to prepare a national men's health program, according to which all men every year (18 March) will be invited to attend a medical examination.
The main causes of death - cancer and cardiovascular disease, tuberculosis.
Traditions and customs in Mongolia
Mongols - hospitable and friendly people. If you manage to visit their guest, the owner will provide you with both hands a bowl of tea (this is a sign of respect). And in order to show respect for the home, too, need to take the bowl with both hands (any meal at all made to take the right-hand or both hands).
My favorite national holiday of Mongolia -Mongolian New Year (Tsagaan Sar): in the morning, wearing national costumes, made to go on a visit, visiting first the most of older relatives. After that, everyone gathers for the holiday table: according to legend, is more abundant than the meal - the prosperous people will live in the coming year.
As for the wedding traditions in Mongoliawife for his son looking for his parents. Once they choose a suitable candidate, they are sent with gifts on a visit to the girl's parents - if the parents are not opposed to the upcoming wedding, they accept gifts. The day before the wedding the groom is to build a yurt to yurt east of his father (the future home for the newlyweds). On the day of the wedding the young have a horse come to the tent the bride's parents, and then - to the yurt groom parents on ways to entertain jokes, jokes, games and other amusements.
If you're in Mongolia, know that without askingYou can not enter into another tent, and silently and softly. To the owners realized that you have good intentions, at the entrance to the tent you need to submit the voice or cough.
Photo