Prices in Budva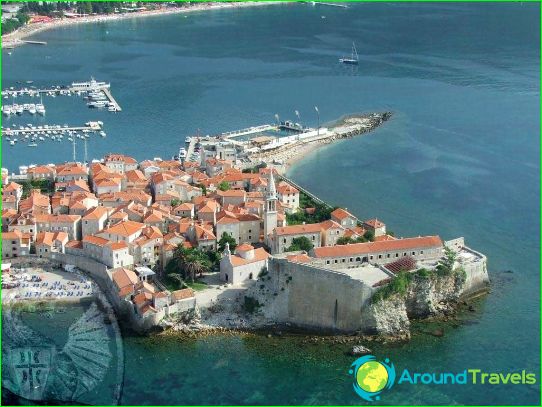 Of all the resorts in Montenegro Russian touristsisolated Budva. This picturesque town is situated on the coast and has a well-developed tourist infrastructure. We will talk about what the prices in Budva accommodation and basic entertainment.
Choosing hotel
In Budva there is a wide range of hotels,apartments and hotels. Establishments with different stardom offer quality service. For a relaxing holiday elite are 5 * hotels. Most popular is the hotel "Angela", which has created an ideal environment for guests. Avala Hotel has an excellent reputation among young people. In one room there would have to pay almost 60 thousand rubles. This price includes the price of the ticket. The 3 * hotel, remote 3 km from the center, a room for 1 night worth almost 1,000 rubles.
From the comfort level and the type of accommodation dependscost of living in Budva. The price is also influenced by factors such as proximity to the resort center and the beach. The peak of the holiday season is from July to the last days of September. During this period, the cost of hotel rooms in Budva increased by 2 times. If you are interested in a budget vacation, it is better to rent an apartment or a room in the private sector. Rent a house can be directly at the bus station of the resort, where there is usually going to landlords. Many tourists are advised to book accommodation in Budva in advance.
Entertainment at the resort
The main purpose of the rest - have funfrom sea bathing. Beaches in Budva stretch for tens of kilometers. There is lots of sand, small and large pebbles. With any stretch of coastline offers a wonderful view of the sea. In order not to get bored on vacation, tourists visited entertainment resort. The beaches are inflatable water parks. Vacationers take rent catamarans and paragliders, and ride on pleasure boats. Beach activities are inexpensive - from 5 to 40 euros.
Where to eat in Budva
At this resort you will not be left hungry. The restaurant serves European, Mediterranean and Asian cuisine. Refreshments can be inexpensive, ordering salads, pastries, pizza and snacks. The cost of lunch in the cafe of the middle class is 15 - 25 euros. Near the historic center of Budva's most famous restaurants are located:. Picasso, Jdran, Mozart and others Budva is considered the most expensive resort in Montenegro. The highest rates are observed in the coastal zone. If you want to save, then visit the cafes and restaurants, far from the beaches. In the area of ​​the promenade in some restaurants serve smaller portions at inflated prices. The budget cafe cup of coffee is not less than 2.5 euros. The soup can be ordered for 3 euros, a pizza - for 4 euros. Pizza take-away is cheaper - about 1.5 euros.
Budva (Montenegro)
Photo