Beaches in Montenegro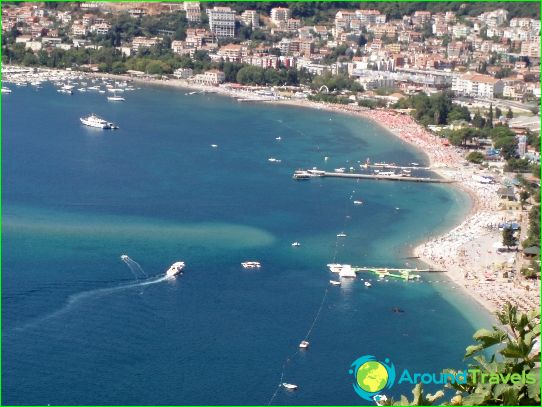 Rest in Montenegro come tourists from all overthe globe. It has everything you need for a perfect holiday: beautiful nature, historical monuments, the national color of the local population and clean modernly equipped beaches. The clear waters of the Adriatic Sea gently take every tourist and ride it on their waves.
The best sandy beaches in Montenegro holdabout one-third of all local beaches. All other beaches are entirely paved with pebbles and stones. Despite the fact that the country's territory is very small, she and 177 beaches. It is best to relax in Montenegro in April and November, because at this time nature is dissolved and shows the most magnificent of its beauty.
Great beach
The famous Great beach called CopacabanaMontenegro. It extends to 13 km in length and 60 - in width. Fine white sand, which is so pleasant to touch, and some even have healing properties. If you contrive to cover the sand and aching joints, pain subsides with time, and if we continue this therapy every day, it can and does abyss. Great beach - a perfect place for families, as the kids can swim in shallow water, and adults - enjoy the exotic plants.
Beach Queen
Only the sea can be reached on this wonderful beach,that adds to the mystery and strangeness. The approach to the beach is surrounded by high cliffs, so in its territory there is a feeling almost complete isolation. This place is ideal for those tourists who like to be alone during the holidays. Tourists pioneers who visited Montenegro for the first time, consider it their duty to try it on the sand Beach Queen. And the sand is very soft, just as gentle as a breeze, as though embracing a rest shoulders.
Becici - the pearl of Montenegro
Montenegro Beaches are beautiful in their own way, butBecici is considered one of the most elegant and picturesque. Its territory is covered with soft golden sand on which I want to lie down all day. However, in addition to the passive recreation, there are also a lot of offers active recreation. All the amenities for active recreation are located on the territory of the hotel, which is located just down the road.
Other famous beaches of Montenegro
Golden Beach in Bara district;
Red beach in the bay between Bar and Sutomore;
Muritsi beach on the shores of Skadar Lake (in the north-western part);
beaches of Budva Riviera (Mogren I and II);
Kamenovo - beach with beautiful white sand;
Sveti Stefan with the whole city, erected in the middle of the island.
Photos of Montenegro beaches