Beaches in Petrovac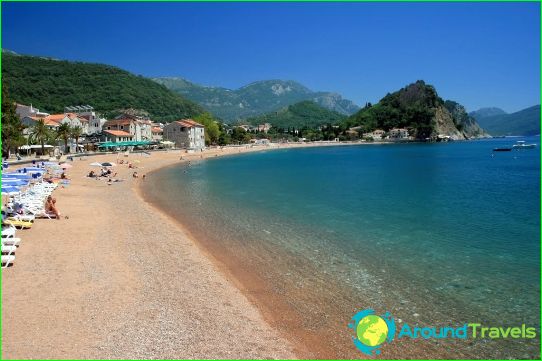 A small town in Montenegro,Located 17 km from Budva, has the status of a popular holiday destination for tourists. Quiet and unobtrusive atmosphere of the resort is perfect for a family holiday.
Petrovac is famous for its beaches. They were at the resort only two:
1. Beach Lucice;
2. The main beach.
It is both the beach 10-15 minutes walk from each other.
The best beaches of Petrovac
The main beach is rather narrow beach strip. His whole territory is divided into paid and free sites. Even in the autumn it is filled with tourists and locals who want to splash in the local coastal waters. Beaches Petrovac pebble. At least, a gentle golden sand here is not to find, instead, the beach is covered with small pebbles.
Beach Lucice
In terms of amenities beach Lucice has greatadvantages. The beach line here is much wider, the adjacent territory pleasing to the eye fanciful exotic greenery. Area Lucice is also divided into paid and free zones.
Paid area with pebble surfaceIt gives way to gentle sand in the free zone. It's worth noting that the depth of the water at both beaches is quite large, so families with children should be cautious. Get to Lucice can be on foot for a comfortable asphalt road, and a car. Before entering there is parking in the beach area. Not wishing to part with the "iron friend" allowed a paid entry into the territory. On this beach there is a large number of restaurants, no hotels. It seems that this stretch of coast has retained its wild roots, and that makes it so beautiful.
The main beach of Petrovac
The main beach, on the contrary, full of an abundance of hotels,restaurants and bars on the waterfront. Great view of the beach is opened to the cliffs located on both sides of the beach. Children are very attracted to the local water slide. It ends with a stone water basin. In terms of safety, all is left to chance, so extreme as on the first type of ride is completely safe.
In general, all settle on both beaches tothe convenience of visitors. There are free showers, deck chairs and umbrellas, toilets, as well as bars and restaurants with delicious snacks and drinks. Local residents and most of the tourists prefer
Rest on free sites where you canstay and enjoy the local beauty absolutely nothing. You can also buy special bedding, mattresses and blankets. A great option to save on sunbeds and umbrellas.
For young people and nightlife lovers in 2008the resort opened beach club called the Beach Club Ponta. Here you can taste the wonderful dishes from seafood, to evaluate the stunning views of the Petrovac night lights and just have a great time.
Photos Petrovac beaches