Rest in Montenegro in January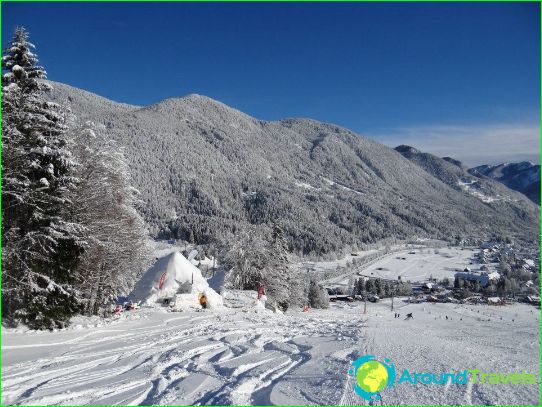 January can not be called the best month for the restin Montenegro, because it is at this time set the worst weather conditions. Despite this, the temperature never drops below 10C. In the coastal areas the temperature can reach + 12C. The average night temperature is + 6C. Gusty cold wind is only in lowland regions. Northern areas are protected from the wind by mountains. In January, there is a lot of rainfall. On the coast are often showers, and in the northern and central regions are snowfalls. However, the rest can please thanks to a rich cultural leisure.
Holidays and festivals in Montenegro in January
Rest in Montenegro in January can be memorable. In this month's holidays are original, allowing to know Montenegrin culture.
On January locals celebrate ChickenChristmas. It is believed that a good meeting of this holiday will ensure success in the poultry industry. The holiday is considered to be orthodox, but in ceremonies can note the presence of pagan elements.
Fifth January entire local population notesnational religious holiday Tutsindan. On this holiday you can not punish children. Otherwise, the kids are unruly throughout the next year.
Throughout January a festival"Hot winter in the hills" in the famous ski resorts in Montenegro, notably the Berane, Kolasin, Niksic, Rozaje, Cetinje, Zabljak. It hosts competitions skiers and snowboarders, cultural events. The Winter Cup held Zabljak Montenegro, which is a car racing on snow. Tourists are attracted by and cross-country skiing competitions, which are held under the name of "All in the snow."
Shopping in Montenegro in January
In mid-January winter sales start in Montenegro. During this period, the collection of last season's prices are down 30 stores - 50%. The best cities for shopping are Podgorica and Bar.
The main shopping street of Bar is named after Vladimir Rolovicha. Where you can find clothes, shoes, accessories Italian manufacturers, leather handbags, jewelry, perfume.
Most shops in Podgorica, capital of Montenegro,located on the streets Njegoševo, Hertsegovachka. You may want to give preference to products Balkan brands, notably the Legend, Kara, Azzaro.
Photos holidays in Montenegro