Rest in Montenegro in May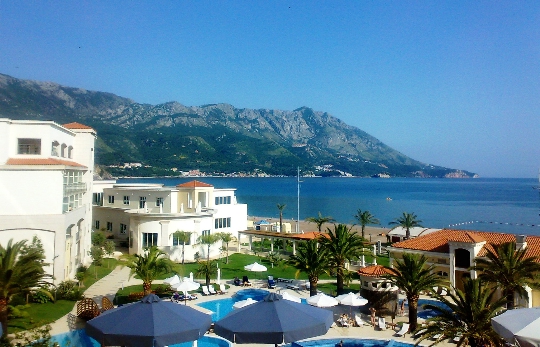 Released from the bowels of the former Yugoslavia, a small butvery beautiful and proud country Montenegro makes headway trying to take its rightful place among the tourist business of monsters. Many of the Russian tourists have already mastered the local resorts and attractions, but continue to come to this country for new experiences.
Rest in Montenegro in May is good because it allows you toevenly distribute the force between sightseeing and beach holidays. The first half of the month will be busy most sightseeing routes, the second - beach fun and the possibility of opening the swimming season.
Weather conditions in May
Column temperature hits record spring afternoonMay consistently without falling below +22 ° C, the temperature of the sea is also high (average of +18 ° C). Of course, to spend half a day in the sea do not get even the most seasoned traveler. But combine sunbathing with invigorating sea is possible.
Rain in May - a very rare phenomenon, they can not become an obstacle to traveling around the country. In addition to the sweltering heat and very far away.
Festival on May 12,
On this day, thousands of pilgrims flock toMontenegro's main attractions - Ostrog Monastery, where the relics of St. Basil, revered not only in this country but also far beyond its borders. During a tour of the monastery complex, tourists will hear stories about multiple miracles that occurred here.
Traveling to Budva
Guests who choose to relax Budva Riviera, there is the opportunity to take a closer look with the Budva, claiming the title of the capital of Montenegrin tourism business.
The most beautiful place in Budva is the Oldcity. It is located on the peninsula fairly, clearly visible from different parts of the coast. The town, surrounded by thick walls, is a typical example of Mediterranean architecture.
Central to the Old Town, where are allroad, this Citadel. It has become a kind of hallmark of the city, in a variety of replicated on souvenirs, postcards, magnets. Citadel is a medieval castle of irregular shape surrounded by walls. On one of the fortified walls of the Citadel has a viewing platform, offering magnificent views of Budva. In addition, tourists can not capture on camera the camera the main symbol of the city - an image of two fish.
Photos holidays in Montenegro