Outlets Montenegro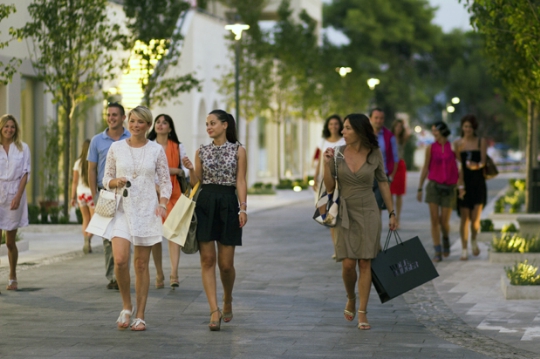 The Balkan country of Montenegro is rapidlyIt comes on the heels of all the whales of the Mediterranean beach holiday. Its resorts are in no way inferior to the famous and eminent hotels boast excellent service and a homey feel, restaurants beckon intoxicating aromas of local cuisine, and a couple of outlets in Montenegro enables to turn the soul of the dandies and fashionistas. Buy products of excellent quality at a good price, and you can now chat on vacation, just enough to know the desired location and choose the time to apply this knowledge in practice.
Capital mall
Outlet Montenegro in the heart of the capitalIt called Mall of Montenegro. In dozens of its boutiques and shops, located on an area of ​​15 thousand sq. M. m. You can buy hundreds of useful, fashionable and affordable products from renowned manufacturers.
This center sink trade mark and fineRussian tourists, especially because it is easily reached by public transport. The exact address of the popular Outlet Montenegro: Bul Bratstva i Jedinstva 85, 81 000 Podgorica, Montenegro, and to buyers dovezut city bus routes 1, 7, 8 and 9.
In this huge stock are presented as localmanufacturers as well-known European and world brands. Jeans and shoes, children's clothing and home furnishings, accessories and cosmetics, perfumes and clothing for men and women - to leave the outlet without reasonable and pleasant buying impossible. Shop begins its work at 10 am and takes buyers to 10 pm, and restaurants, bars and a dozen bowling lanes help diverse time and is shopping.
Specials delta
The largest outlet Montenegro, Delta City andIt located in Podgorica. You can reach it from the bus station of the capital on a bus route 2, from the train station - 5 route, and from the international airport by bus number 2. The exact address for car navigation - Cetinjski Put Podgorica 81000, Montenegro.
Opens the outlet Montenegrin daily at 10am. Its retail space take customers up to 22 hours, and numerous restaurants and cafes - to 11 pm.
Also known boutiques around the world of fashion brands,in the Delta is a huge supermarket, which is convenient and profitable to buy the famous Montenegrin specialties - dried ham prosciutto, extra virgin olive oil and the best local wines.
On the leisure customer Outlet Montenegro organizers have taken care as "excellent". In the sports cafe you can cheer on their favorite team play, and in the cinema to see world cinema.
Photo