Prices in Montenegro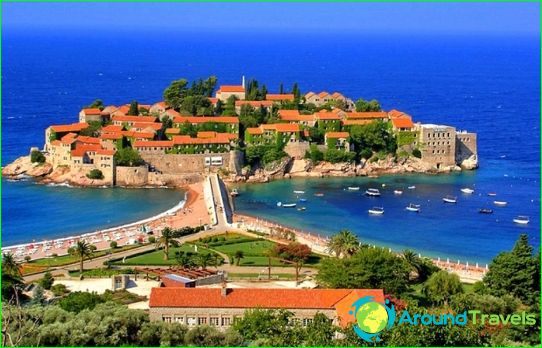 By European standards, prices in Montenegro is quite low, but the cost of accommodation, meals and entertainment on the coast a quarter higher than in the inland areas.
Shopping and souvenirs
Shopping - good addition to proper rest in Montenegro. Here it is advisable to arrive during the two global "Salem" (mid-January - early March, the beginning of August - mid September).
From Montenegro should bring:
clothes, shoes, accessories of famous brands at attractive prices;
jewelry and furs;
ceramic and wood products;
Montenegrin wine, ham, pastries, olive oil, honey.
As for the local wines, then you should definitely buy red wine "Vranac" (it costs 8 euros per bottle) and white wine "Krstac" (buy the wine you can from 7 euros per bottle).
Excursions
Going on a tour of Montenegro,you will visit Cetinje, which will see the palace of King Nicholas. Then you stop in the valley Njegos, which is a national park - here you will be treated with prosciutto, cheese and local wine. Then you go to Kotor, which will visit the Cathedral of St. Tripun, Church of St. Luke, will see the Prince's Palace and the Clock Tower. The tour, designed for the whole day costs about 30 euros (this price includes snacks + entrance tickets).
If you have free time be sure toshould go to the Skadar Lake - there are more than 35 species of fish and 270 species of birds. During the tour, you will realize a walk on a boat, to try national dishes of fish, and swim in the clear waters of the lake. The tour is about 35 euros (the price includes refreshments snacks and beverages).
Entertainment
If you - a lover of outdoor activities, be sure toenjoy a rafting - rafting on the Tara River. Estimated cost - EUR 70 (price includes rafting, instructor, lunch and dinner).
Fun can be at an amusement parkAdventure Park: here you can go on different paths - Koalas, Chita, Panthers, Duel and Tarzan. The cost of entertainment in the park starts from 18 euros to 10 euros and adults - with children.
Transport
Rent a car in Montenegro you can for 40 euros and up per night.
The main method of transportation on the MontenegrinThe city is the bus ride. The cost of such a trip is not high: even for a ticket on a long distance flight will give you about 5 euros. For example, to get from Podgorica to Bar you pay 5-6 euros.
You can move around the city and a taxi. For example, the fare from Tivat to Budva, you will be asked to pay 20-25 euros, while for a bus ticket will give you 3-4 euros.
As for the daily expenses on vacation in Montenegro, they make up about 20-30 euros per night for a stay in a cheap hotel and 10-20 euro for food in inexpensive cafes and eateries.
Photo