Reserves of Montenegro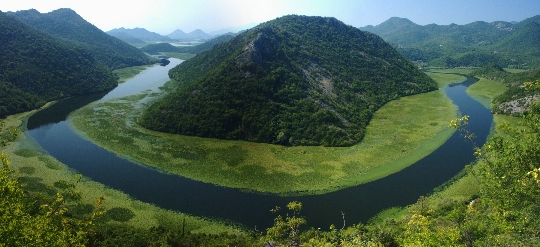 Five national parks of the BalkanRepublic - a worthy decoration of Montenegro and the object of attraction of thousands of visitors - and their own, and foreign. Protected areas are located in various parts of the country, some of which occupy a worthy place in the UNESCO World Heritage list. All reserves of Montenegro have the official status of national parks, one of the areas of economic activity which - tourism.
Bird lake
Located on the territory of Albania and Montenegro Lake Skadar can rightfully be called a bird:
In the national park except thea large freshwater reservoir on the Balkan area includes five ornithological reserves, which is undergoing a huge environmental and research. Hundreds of bird species nest on the shores of Lake Skadar and the same number choosing his stopping place during seasonal migrations.
Fans of the old architecture and historyenjoy a tour of the ancient Monastery built on the shores of the lake in the period from the XIV to the XV century. One of the monasteries - Monastery of Kom - is applicable to the first third of the fifteenth century, and still.
Excursions by boat, organized by local residents - the most popular visas cognitive rest in the Reserve of Montenegro.
In the summer on the beaches on the shores of the lake you can swim and sunbathe - the season lasts from May to mid-September.
Better mountains may be just the canyons
That is considered the tourists who have visited withExcursion to National Reserve of Montenegro, located on the banks of the river Tara. Punching his way into the rock mass, the water flow has formed a canyon of great beauty, whose height reached in some areas of 1300 meters. It is said that in this canyon national park in the Balkans nor the size or beauty is not inferior to the Grand Canyon in the US. You can verify this by going on a tour of this unique natural attractions, inscribed in the UNESCO World Heritage list.
The list includes
UNESCO has taken under his wing, and anotherDurmitor - Montenegro National Park. Its main attraction - the eponymous mountain range, and the tourist infrastructure includes ski and snowboard resort, and dozens of hiking trails. Main paved biking trails along the banks of glacial lakes, the most beautiful of which is considered to be Tsrno-Jezero.
Photo