Restaurants in Montenegro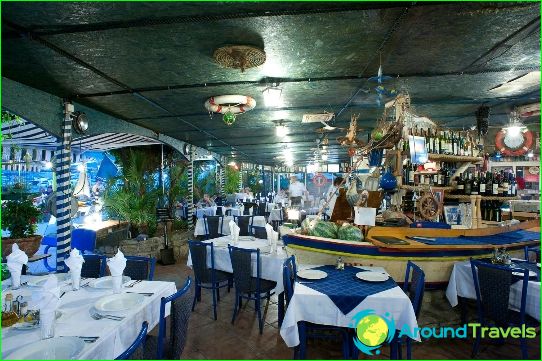 Going on holiday to any country in the Balkans,You can be sure that do not stay hungry. And in that sense Montenegro is not an exception. Her kitchen was born as a result of a strong marriage traditions of the Mediterranean and Balkan traditions. It involved coloring in Hungarian, Turkish generosity, Greek and Italian artistry of merit, but because - huge portions, great flavors, and the pleasure of dining at restaurants in Montenegro is comparable only to a date with a nice man.
Leafing through the menu
Montenegrin cuisine prepared a lot of nicemasterpieces for the visitors. Here, quite clearly traced two directions cooking: a coastal and continental. The foundation is based on the first use of the vast amount of seafood, and based on the second - meat, milk and cheese, the environmental quality in the country which is beyond praise.
Regardless of the location of each restaurantMontenegro offers visitors local specialties, without which a gastronomic journey around the country can not take place. Jerky prosciutto and sausages chevapchichi, clotted cream made from natural sheep's milk, and chop-pleskavitsa - all these strange names are fraught with nourishing and hearty food, which tasted travelers go turn off the mountains in the literal and figurative sense.
Konoba or Piwnica?
Restaurants in Montenegro can be divided into several categories, each of which implies a certain pricing policy and the level of service:
Taverns, decorated in the traditional nationalstyle. This tavern with authentic cuisine, all major Montenegrin dishes are presented in a menu. Some expensive restaurants are also called taverns, so that the tourists willingly went with the hope to try the local food. The difference in the account can be up to five times, and the food quality will be quite equivalent.
In Piwnica usually socialize after work and on weekends, a lot of drink and even dance. From here food mainly snacks.
Breakfast can be enjoyed in Kafan, serving coffee, dairy dishes, cereals, puddings, casseroles and cakes.
Useful observation
The average bill in restaurants in Montenegro canup to 20 euros per person with wine, if you look at the usual restaurant, which is complete in the Balkan cities. The main similarity of all restaurants - excellent and of good quality food and surprisingly comfortable atmosphere. And another important observation! Montenegrins love children and every couple with a toddler will be surrounded by special care and love.
Photo