Wines of Montenegro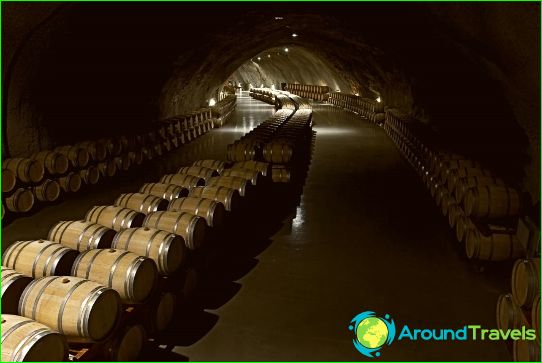 Montenegro called ecological reserveOld World. Here it is preserved not only the cleanest lakes and forests protected beaches, but also the thousands of years of winemaking tradition. Secrets of their fathers and grandfathers modern Montenegrin winemakers cherish and pass on to their children, and Montenegro are famous wine special color and flavor.
The most important and valuable variety of Montenegringrapes on the old tradition of growing in plantations in the form of a cross. It is called Krstac and that its fruits blended to produce the famous wines from Montenegro.
History and geography
The center is located in the Montenegrin wineTsrmnitsy around the city. It is here that all participants seek to wine tours to Montenegro. The focus Tsrmnitse best wineries, many of which - more than one hundred years. On the slopes of the local grape varieties are grown and Vranac. Serbian word meaning "black horse" and it is a color gain bunch of berries at the time when the start harvest. The authenticity of the wine in Montenegro, produced from varieties Vranac fruit can be recognized by lilac shades and harmonious luxury bouquet of taste. Wine Vranac for two years enriched fermentation and flavor of oak barrels, so that the brand has appeared in the list of the world's hundred most exquisite wines.
wine Knights
Tsrmnitsy Plantation boast not onlywines, but also the people producing them. The region is assigned the title of Knight of wine the best winemakers. The first holder of this title was the Millau Ulama, the factory which can take a fascinating tour. Wine Knight produces its branded beverages in compliance with the age-old traditions. His wine is matured only in oak barrels and a tasting Millau offers not only wine, but also home-smoked ham or game.
In the area of ​​Podgorica - their wine knights. Here produce white varieties, among them - and the popular "Krstac" since most plantations in the form of a cross. The wine has a delicate taste and a rich bouquet of aromas, including citrus and guessed, and peach, melon and muscat. Its color reminds romantics molten flower honey. The price of "Krstac" readily available and allows you to buy wine, even for people with very modest incomes.
In Montenegro, rightly believe that the cupgood wine - the surest way to gain the interlocutor and to meet with the satellite. That is why the winery and wine Montenegro - one of the main components of the excursion program for each of the traveler.
Photo