Airport Agadir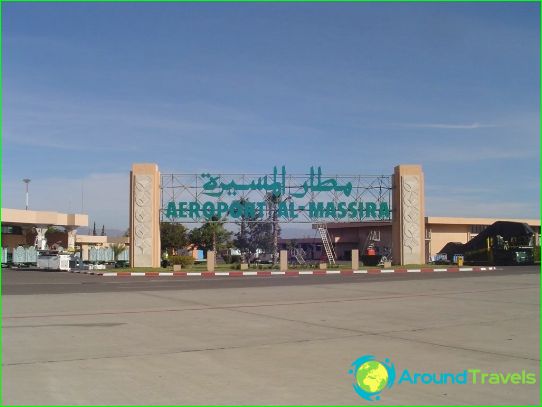 The largest city in southwestern Moroccoserving the airport in Agadir. Agadir Al Massira airport serves international flights and connects the city with many cities in Europe. The airport is located about 25 kilometers from the city center.
Every year served more than 1.5 millionpassengers. Agadir Airport has one runway, its length is 3200 meters. The existing runway can receive almost all types of aircraft.
The airport has one terminal with an area of ​​over 26 thousand square meters. Capacity - 3 million passengers a year.
services
Agadir Airport is ready to provide itsguests all the services that you might need on the road. Hungry travelers can visit the cafe, located on the territory of the terminal. You can always find a variety of local and international cuisine.
Also, the airport is ready to offer its passengers the zone of shops where you can buy the necessary goods.
For people with children in the territory of the terminal there is a mother and child room, as well as playgrounds for children.
Tourists traveling in business class, can make use of a separate waiting room, with a high level of comfort.
Among the standard services can be noted ATMs, a post office, a luggage room, currency exchange, etc.
If necessary, passengers can always seek medical advice in the clinic or buy the necessary medicines in a pharmacy.
the company is also working at the airport who are willing to provide car rental. It has ample parking in front of the airport.
Getting there
From the airport to the city can be reachedin several ways. Bus service is not very convenient, but nevertheless it is. Not far from the terminal building is a bus stop of the bus №22. They follow the city Inzegan, which is a suburb of Agadir. From there you can take the buses №20, 24 or 28, which is followed to the center of Agadir.
To avoid all these transplants can take a taxi or your own access to the city in a rented car.
Photos Agadir airport