Airport in Casablanca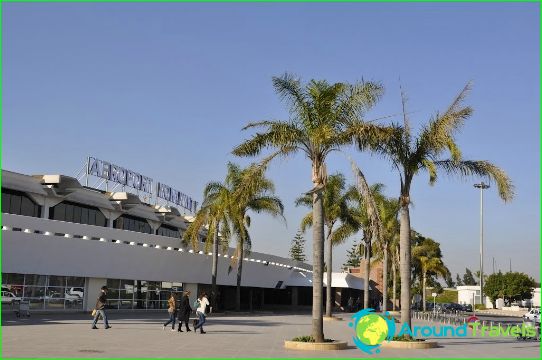 Airport in Casablanca is the name of the Sultan MohammedV. It is located in Nueser, about 30 kilometers from Casablanca. The airport is connected with many cities around the world, a direct flight from Moscow to Casablanca was launched in 2011.
The airport has 2 terminals that are connected to the transition. Terminal 2 serves international flights, while Terminal 1 - domestic.
Every year served more than 7.5 million passengers, and the airport has two runways, both the length of 3720 meters.
services
Casablanca Airport is ready to offer itsoffers a variety of services. For business class passengers at the airport there is a Business Aviation Lounge, where there is Internet access, org-art, satellite TV, etc. For conferences, you can use the hotel room "Atlas Airport Wanted", which is located near the terminal.
Also the airport in Casablanca offers a large number of cafes and restaurants that are always ready to feed the hungry visitors.
For passengers with special children is availableservice - support of children from four to twelve years, providing them with complete safety. To use this service are kindly requested to provide a package of documents.
Also at the airport has Wi-Fi access, a post office, ATMs, banks, etc.
If necessary, the tourists can always take advantage of health care services in the infirmary or to buy medicines in a pharmacy.
Recreation
Hotel "Atlas is located near the airportAirport Wanted "- 3 stars about it has been said above. Therefore, tourists can always relax in comfort at this hotel. I should add that there is also a hotel at the airport, but it is intended only for transit passengers.
Getting there
There are 4 ways to get from the airport to Casablanca:
A train. In Terminal 1 there is a railway station, which regularly at intervals of 1 hour trains. Moving time - from 6:50 am until 22:50 pm.
Bus. Regularly, starting at 5:30 am and ending at 23:00, the airport buses of the STM.
Taxi. A taxi rank is located next to the arrival hall.
Leased cars. Several companies are working on the territory of the terminal, providing cars for rent.
Photos of Casablanca Airport