Morocco Beaches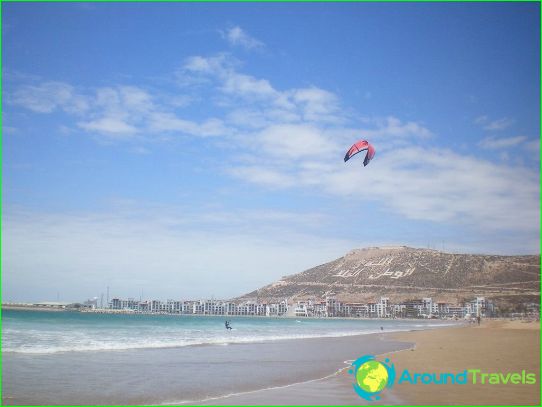 Morocco - a wonderful eastern country, whichlove is not just ancient history fans. Bordering the Mediterranean Sea and the Atlantic Ocean, it is extremely attractive for those wishing to spend a holiday basking in the well-tended beach. Hosts hotels responsibly to receive guests, especially children and youth. Especially for them, organize playgrounds, mini-clubs, camel rides, disco and other entertainment. The best sandy beaches of Morocco are located near large cities.
Agadir resort town beach holiday. The length of the beach in Agadir about 13 km, so you can choose to your taste the most lovely place. Like the hotel, because close to the beach there is enough of them. In May, Agadir attracts surfers compete and water skiing enthusiasts. Moderately warm climate allows you to spend long hours on the beach, enjoying the water rides available.
Beach Salido called "blue pearl". This is perhaps the most famous Moroccan beach. Tourists striking blend of exotic local architecture, the nature of indescribable beauty and the most comfortable beach infrastructure. In addition to boating, you can play golf, tennis, beach volleyball.
Beaches of Essaouira (170 Agadir) filmedin his films directed by Oliver Stone, Orson Welles. The famous beach is also a thalassotherapy treatment centers. Every year in Essaouira hosts international competitions in surfing and windsurfing. The strong wind from the ocean and high tide is the best suited for practicing these sports. Lovers of the same relaxed swim and sunbathe will have to choose another Moroccan beach.
The beaches are a small Mediterranean townMagazan considered the most luxurious in Morocco. Calm sea, the gentle sun, a rich excursion program to a measured, serene existence. Among the water activities especially popular in Magazane diving.
A beach Lezgira (south-western part of the country)specifically get to capture a keepsake amazing stone arches. The red rocks of the coast is hidden scenic area with arches formed by the tides. At sunset, the rocks are bright orange with shades of blue of the sea. You can spend the night in a small hotel nearby or directly on the beach in a tent.
Morocco Beaches are perfect for advertising a relaxed holiday.
Photos beaches of Morocco