Coat of arms of Morocco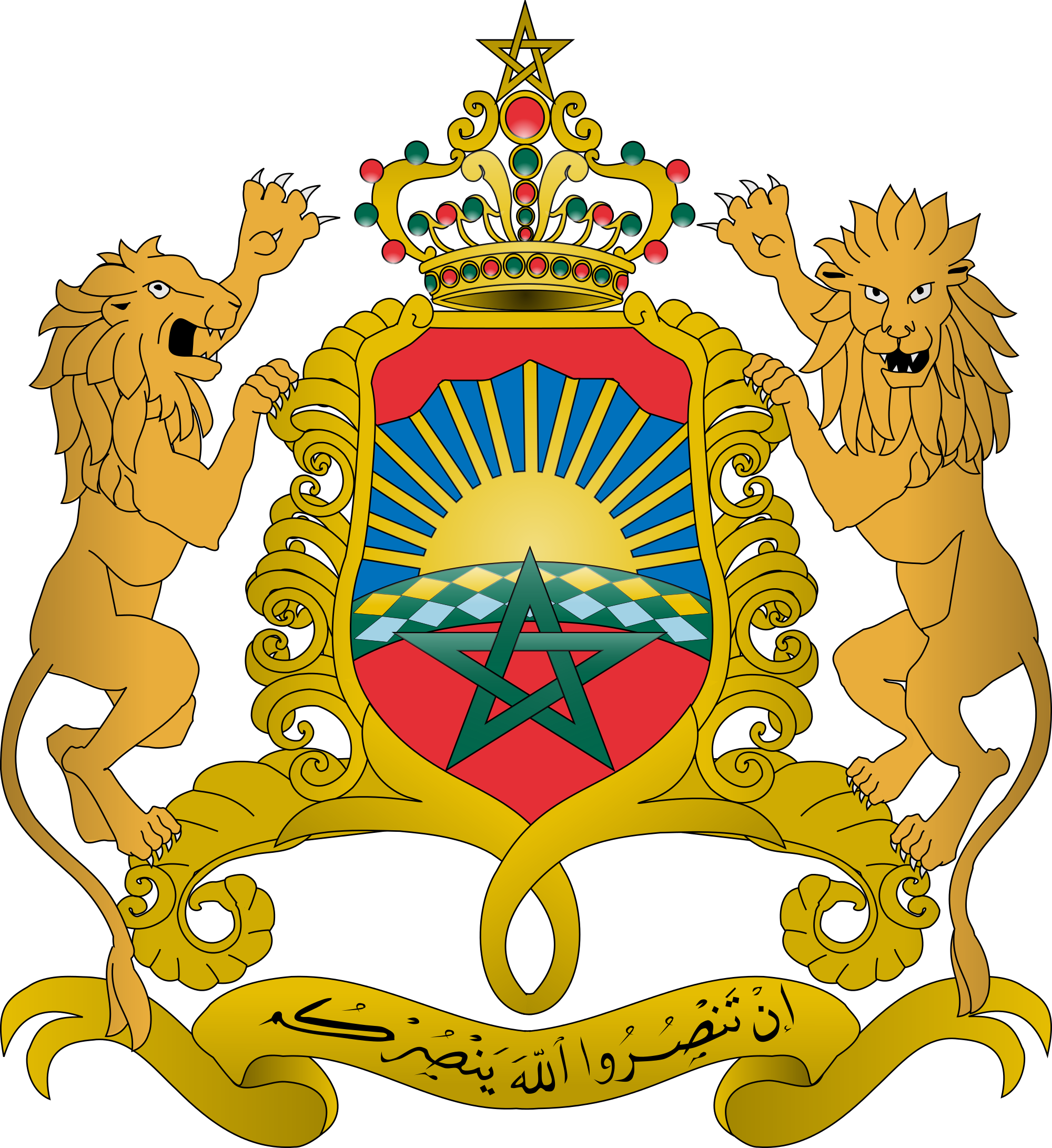 According to the laws of the country, has a coat of arms of Moroccoroyal status. Put the coat of arms in 1957. coat of arms has a lot of classical canons - it is, in particular, shield, supported by golden lions, standing on two legs.
What is depicted on the emblem
The emblem is in the central part of the shield. It is supported by two lions. In the center of the shield - green pentagram on a red background. Over the pentagram there sunrise over the mountains image. At the top of the shield - the crown of the king.
On the tape - the motto, denoted in Arabic. This is - an excerpt from the verses of the Koran, which states: "If you help God, He will help you."
Head arms - scarlet and concave at the top has a yellow, green and blue diamonds.
What is a pentagram
Pentagram is in the most general terms such basic values:
The earliest sign of life, as well as a sign of good health;
Chief State emblem of the country;
The Pentagram represents the victory of good and truth.
Five rays in a star - not that other, as the five pillars of Islam.
Green pentagram on the arms of Morocco alsochosen by chance, because it is - the main color in Islam. And Islam is the dominant religion in Morocco. Green pentagram - it is also a sign of hope.
Other symbols of the coat of arms
Red, in addition to the Sun symbolism, representsstill the dominant Meccan sheriffs. It is up to them dates back the ruling dynasty of Morocco. Red - it's also the courage, bravery, strength, courage, devotion to duty.
Above the shield is the country's crown. It is decorated with stones of green and red color, repeating the basic stamp color. Crown also surmounted pentagram golden brown.
The Moroccan coat of arms is quite interestingSupporters. They are a lion with one paw raised. The feet are lifted from the opposite side from the viewer. Left lion and does is alert. This - the symbols of the guard, the protection of the state, the struggle for independence, and constant readiness to defend against enemies. It - barbariyskie lions, once common in Morocco, and now - completely destroyed.
Interestingly, once the rulers of Morocco received the lions as a gift from the Berbers. Perhaps this fact is also immortalized on the Moroccan coat of arms.
Some researchers believe, heraldry, coat of arms of Morocco that the star of the crown is a five-pointed star of Solomon.
Photo