Cuisine of Morocco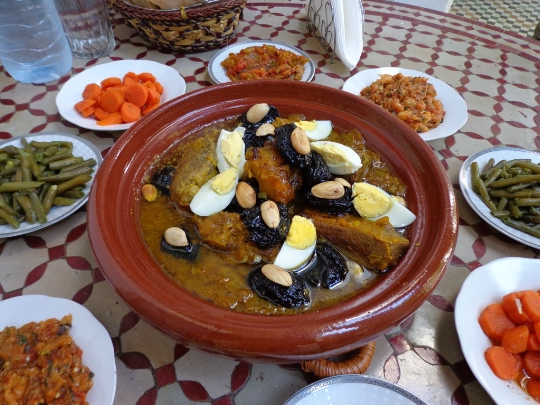 Cuisine of Morocco was formed under the influenceBerber, Mediterranean, African, Moorish culinary traditions: here harmoniously sour, sweet and tart flavors (from unexpected combinations can be distinguished from sweet cakes stuffed fish, duck with honey and figs, fish and tangerines).
National cuisine of Morocco
Among the famous Moroccan dishes standsTajin - it is eaten almost every day. This dish is a stew in which added to vegetables, meat, dried fruit and all sorts of seasonings (it is cooked in an earthenware pot). Widely used such spices as nutmeg, turmeric, ground ginger, pepper. The main dish meal is thick and hearty soup - on the table is a fish soup served in Moroccan spicy chicken soup, bread soup and others. Any meal is complete without meat dishes, which are carefully flavored with spices and herbs (lamb with dried apricots, prunes and figs, chicken stuffed with spices and herbs).
Popular Moroccan cuisine:
"Couscous" (a dish made from corn, wheat or semolina, which is prepared for a couple);
"Batindzhaan" (salad with oranges and roasted eggplant, seasoned with tomato sauce);
"Harira" (soup with mutton broth with vegetables, pulses, coriander and other spices);
"Pastilla" (cake with egg, almonds and meat);
"Dzhezh-emshmel" (chicken with lemon and olives).
Where to try the national cuisine?
Despite the fact that in many cities of the country are notuse cutlery (food scoop up 3 fingers of his right hand and a cake of bread), still in institutions where often drop in tourists, guests are offered use of knives, spoons and forks.
In Rabat, you can visit the "Dar Zaki" (hereencouraged to try tajine) in Agadir - "Restaurant Daffy" (the restaurant serves hearty: guests are advised to eat soup Hariri and salad with squid, as well as order a delicious savory food great wines presented by a local wine list), in Marrakech - "Dar Essalam" (from the national dishes of visitors here are treated couscous, Tazhin Pastilla, oriental sweets, as well as encouraging them to live Moroccan music and belly dancing), Casablanca - "Al Mounia" (this restaurant, which serves traditional Moroccan meal and great wines, popular among the locals and tourists, so book a table in advance is better).
Cooking classes in Morocco
For those interested in Moroccan cuisine canoffer cooking classes "Tajine Cookery Class" in Marrakech: 4 hours they teach the art of preparation of some traditional dishes ( "disciples" will tell how to select them spices) and mint tea. In addition, the chef arranges for them to walk through the Marrakesh souk.
In Morocco, you can come to the cherry festival (June, Fez), the Festival ART Culinary Arts (November, Fez, Tangier), Honey Festival (December, Agadir).
Photo