Prices in Agadir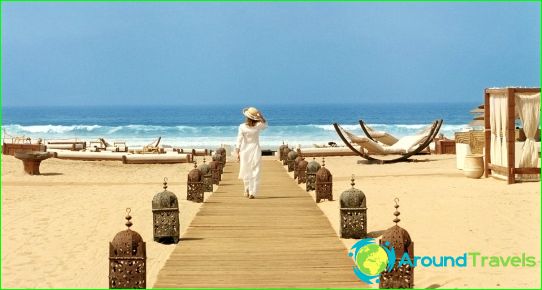 Agadir - resort in Morocco, little known for Russian tourists. He is very popular among Europeans, especially among tourists from France. Morocco surprises vacationers exotic Arabic.
The currency of Morocco isMoroccan Dirham (Dh, MAD). On holiday in Agadir should pay national currency. Euro and dollars are not walking. In circulation are coins (centimes) and banknotes.
Questions of residence
Agadir has a wide range of conditionsholidays and accommodation. There are functioning hotels of different levels. In any hotel the tourists are provided comfort and excellent service. designed hotels 5 * For high-end vacation. Number 4 * hotel will cost 100 euros. Stay 3 * in Agadir possible for 50 euros per day. During low season, double rooms at the hotel 3-4 * worth no more than 100 euros.
Each hotel has its own extensive grounds and landscaped beach. Tourists are offered high-quality food and a range of additional services.
Excursions and Entertainment
Tourists are offered a variety of excursionstours of Agadir and its surroundings. The cost of the excursion - from 100 euros. Individual trip with a guide in Essaouira for a day will cost 250 euros. Excursion to Massa from Agadir costs from 150 euros. Excursion on horses and camels is worth 70 euros.
Time passes here fun and fast. Tourists are offered horseback riding, surfing, fishing, sailing and others. Entertainment for all tastes are in any hotel. Agadir is the pearl of Morocco. There are many historical sights. Tourists who are interested in the history and culture of the country, it is recommended to visit the medina of Agadir - the old part of the city. It is a tourist center, which gives an idea about the structure of an ancient Moroccan city.
Food in Agadir
Most travelers prefer to eat inHotel restaurants. There are many catering establishments offering delicious and inexpensive meals. On the streets you can buy food from the mini-trays. They sell mostly pastries. The café cook soup Hakir (meat, chickpeas and lentils) 5-7 dirhams. The budget cafe tourists bought Tazhin with different fillings on 20-80 Dh. Many cafes offer Friday couscous on 35-50 Dh. In general, the food is cheap in Agadir, which allows travelers with a limited budget to attend any of the resort restaurants.
Photo