Prices in Morocco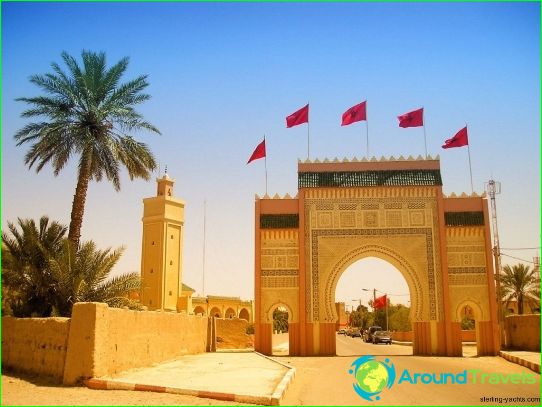 When compared with other African countries, the prices are relatively high in Morocco - they are higher than in Tunisia and Egypt, but lower than in Spain.
Shopping and souvenirs
Morocco - Eastern country, so shopping should go to one of the markets where we can safely traded, beating the original value of the goods in 2-3 times.
What to bring from Morocco?
- Traditional shoes with curled upnoses, copper products (pitchers, teapots, trays, Aladdin's lamp), carpets, Moroccan leather, silver and gold jewelry, cosmetics, olive and argan oil, a weapon in the form of a musket or a knife;
- Moroccan tea with herbs, oriental sweets (chocolate figs, candied fruit, baklava, halva, nuts and dried apricots), local wine (gray, pink), fig vodka.
Various sweets in Morocco can be boughtfor about $ 10/1 kg, slippers Grandma - from $ 12, ceramic products - 2.5 $, copper products - from $ 12, lamp - from $ 24, argan oil - $ 12, leather - 18-40 $, carpets - from $ 24.
Excursions
Sightseeing tour of Agadir will allow you to visit the picturesque port and the "house of Argan", admire the ancient fortress, visit the observation deck on the mountain Agadir-Ufellia.
The approximate cost of the tour - $ 35.
And having gone on a tour of the cityMarrakech, you will see the ramparts of the city, the temple of the Koutoubia, the tombs Saadinskoy Dynasty, take a walk through the gardens of Menara and Jacques Majeur, visit the Hebrew, and the Imperial Palm blocks ...
The approximate cost of 10-hour tour - 200 euros for a group of 6 people.
Entertainment
Well, you can spend time at the zoo "Valley of the birds" in Agadir - here you will see monkeys, kangaroos, llamas, goats, mouflon, parrots, pink flamingos, peacocks and other animals and birds.
Walking through the alleys of the zoo, you can enjoy nature, children - playing on the playground, and those who want to be alone - boating.
The question price - free.
Transport
Bus is a popular form of publictransport in the country. The average bus fare is $ 3-7 (all depends on the distance). Tickets can be purchased from the driver (in small towns) or bus stations.
Tip: to move better to choose the "CTM LN" bus company (they are comfortable and reliable).
In Morocco, you can travel by taxi - for each kilometer you will pay around $ 1.
If desired, you can rent a car: it will cost you about $ 40 / night.
If you want to relax the budget in Morocco(Meals at inexpensive cafes and eateries), you'll need $ 25-30 per day for 1 person. But in order to feel more comfortable on vacation, it is advisable to have the amount at the rate of $ 50 per day for 1 person.
Photo