Rent a Car in Morocco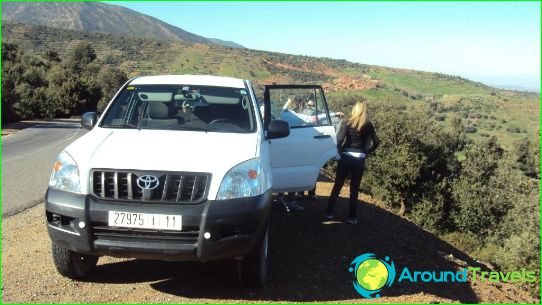 Traditional Arabic exoticism can taste,a trip to Morocco. The country is well-positioned for a comfortable stay, offers a holiday in the popular resorts. Having been in this country home is sure to bring a gift of silk products to friends, carpets, clothes, and figurines. The spa is open on the territory of many hotels.
To get to the country, you can charter flightsdirectly or with changes in the cities of Europe. For comfortable travel around the country you can rent a car. Specials Rent a Car in Morocco will allow to comfortably move between cities. To obtain service, you must have:
international driver's license;
credit card;
age at least 21 years.
Rent a car in Morocco is a snap. In all the big cities there are large local and international office rental. It is better to rent a car in reputable and well-known companies, eg, Avis, Hertz, Eurocar.
helpful hints
Pre-need to find out whether the price includes insurance and taxes, as this amount may be deducted at the time of car.
We must carefully inspect the car for faults and damage, both technical and external, if any, to take them on video and / or photograph.
In no case do not put the signature under the contract, if it is anything written in pen on the French or Arabic!
SDA Properties in Morocco
Movement within the city limits, just say no tobeginners. It seems that the local taxi drivers and motorists simply ignore traffic rules, moving tightly to each other and constantly honking. This situation in addition complicate the horse-drawn carts, motorcyclists and pedestrians only, which pass the roadway where they please.
In big cities there are often traffic jams. Gas stations in the country a lot, both in cities and highways.
Trails mostly one- and two-lane roads of excellent quality, abundant mountain streamers. In some places there are paid sites highways, price fare of 20-70 rubles. (5-20 dirhams).
Exceeds the rate in Morocco is not recommended - fines "bite" - from 700 rubles. (200 dirhams).
To visit Morocco do not require a visa ifstay does not exceed 90 days. Kingdom has several beaches, which certainly need to visit. Also, when you visit a country you can get acquainted with the work of local dancers and singers, traditional performances are held in the state capital in the evening on the main square, which is always crowded.
Photo