Shopping in Morocco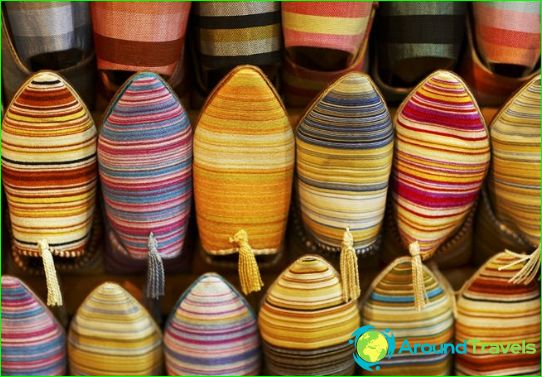 Going on vacation in Morocco, you may want tobring home a piece of it - something that will remind you of that country. Shopping in Morocco is mainly from hikes in the markets and shops with local goods.
Popular shopping in Morocco
In the markets you can buy hand-made woolen carpetsIt works with a simple and a complex pattern. Check carpets - Moroccans can also offer fake acrylic disguised as 100% wool, if you set fire to a piece of the carpet pile, the smell will be clear from what he's done. When purchasing carpet need to be traded, the price can be reduced by about a third.
In Marrakech there is a shop "Marrakech souvenirs", there you will find postcards, magnets, city maps, fine jewelry at a fixed price. This is useful if you do not like to haggle.
The shopping center of Marrakech "Complex d'Artisan"A variety of shops with leather goods - it's handbags, shoes, belts, shoes Bedouin. In the same mall you can buy souvenirs and metal ware - copper, silver, engraved dishes, trays and dishes, coffee pots. Prices are quite high, so you can just enjoy and do not buy. In any eastern city on the craft market stalls have the same metal dishes, but cheaper.
Another traditional purchase in Morocco - oilArgan and products based on it. Note that many cosmetic coloring agents may have effect. The most complete range is presented in Argan center.
In Fez there are shops under the guise of the quarter"Fez marche", here you can buy decent quality shoes and clothes made in Morocco, at low prices. One of the local manufacturers selling good leather shoes for men and women in the store with the name "Chacal".
For European things known brands needgo to Casablanca, in a classic performance by Glaoui Passage. There is also a local brand, which produces suits, shirts European styles - shop is called "Even".
Buy a home, Moroccan olives, spices, nuts anddates, drink the local mint tea from the traditional tiny cups, look in the shops, which are located directly on the market, and took with him the most vivid impressions.
Photos of Moroccan goods, shops and markets