Tourism in Morocco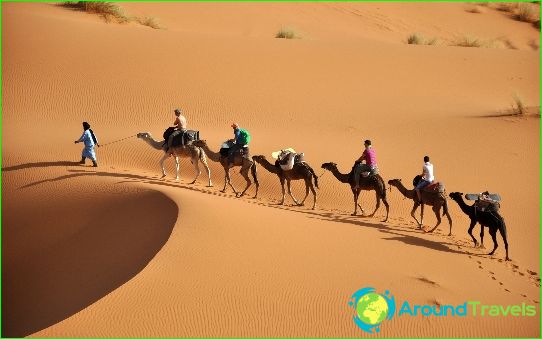 Once reading oriental tales, manyfond mysterious Maghreb where evil witches and wizards live. Now, in the Maghreb, that is, in Morocco, can safely go any tourist, without fearing for their lives and health. On the contrary, rest in this country will benefit and for the body and for the mind and soul.
So far, tourism in Morocco lags behind neighboringEgypt, but definitely in the top three leaders in the black continent. On the one hand, the European traveler will feel comfortable enough with the other Arab exoticism presented in all its glory. In addition, the Moroccans have mastered various techniques of thalassotherapy and is now actively advertise this direction, comparing favorably to the resorts in neighboring countries.
Journey to Africa
Perhaps the surprise of many, but not bad in Moroccotransport links between cities and regions. There are quite comfortable buses equipped with air conditioning. City, located in the northern part of the country, linked by railway lines.
you can travel in large settlements in thetaxi, which, thanks to the yellow color visible from afar. Unfortunately, most of them are designed for very small companies (maximum three people). You can take a rental car, which is used by many tourists. Even more convenient option when renting, and car and driver.
In Morocco, all is quiet
Residents of the country are valid in relation to the tour,imposed pending. The resort area is safe even walking in the evening, it is clear that the market or in the tourist areas should be monitored for their belongings.
Caution should be observed with regard to food and drink, bottled water is better to use, from the freshly squeezed juice with ice on the street and should be abandoned.
Moroccan holidays
Activities at local resorts will appreciate the magnificent clean beaches, relaxation sessions in the famous baths, hammam, a rich cultural program. Every tourist arriving in Morocco seeks to catch:
visit the famed jewelry market in Fez, to please loved women beautiful ornaments;
enjoy a glass of delicious local tea (usually three or four);
make a pilgrimage to the mausoleum of Moulay Idriss, a well-known far beyond the borders of the country;
at least try to get up on a surfboard, to feel the movement and the breath of the ocean.
Rest on the coast, a journey deep into Morocco, familiarity with eastern exoticism, monuments of local culture will long remain in the memories.
Photo