Holidays in Morocco in May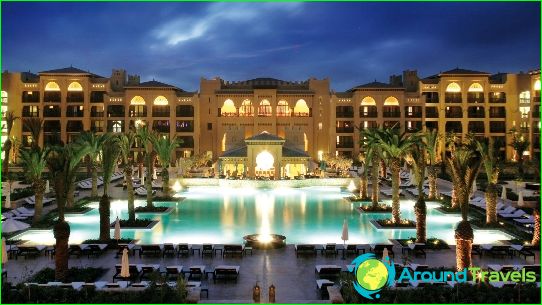 If in Japan has long been firmly stuck label"Rising Sun", Morocco in this case, claim to be the "sunset of the kingdom." This is one of the Maghreb countries, which received its name in honor of the beautiful Marrakech, the ancient city, the former once the capital. The name of this former capital city is translated as "beautiful, beautiful."
The same definition throughout the country give touristscoming to rest in Morocco in May. Last month the African spring happy sunny days and dry, more warms the sea (or ocean, to those who rest on the Atlantic coast).
Weather in Morocco in May
Weather never ceases to please. The swimming season is growing, brave individual company, started this business in April, increasing the number of "brave sailors." Although the water temperature is too early to call a hot, on average, it is +19 ° C. It overtakes the temperature of the air column outdoor thermometer shows +23 ° C, on separate days soars to +28 ° C. But even +23 ° C in Morocco can not be compared with a similar point in the middle latitudes.
The spring sun in Africa aggressive enough to require special creams and sprays. Only in this case is guaranteed a nice tan color of chocolate, without any shades of red and purple.
Festival of Roses
Wonderful holiday in honor of the spring floweringNature is held in May days in one of the Moroccan towns. The geographical location of the city - in the Rose Valley, speaks for itself. Growing a variety of plants, and especially the queen of flowers - the main occupation of the locals and a good source of income.
Flowers are for sale, as well as for the preparation of rose oil. And the harvest begins in the last month of spring when the roses come in full force.
During the Rose Festival can see the street,covered with multicolored petals, a kind of lively floral carpet. It is clear that the celebrations can not do without the traditional melodies and dances. Local musical groups use a tambourine, flute and exotic for Russian tourists National Instruments.
For the most curious is open access to the factory. Traveling on the kingdom of flowers, tourists can see the whole process of processing delicate fragrant petals.
At fairs, traditionally opens during the festival, the main product are the royal roses, pink-based oils cosmetics and perfumery with the familiar scent of all.
Photos vacation in Morocco