Holidays in Morocco in October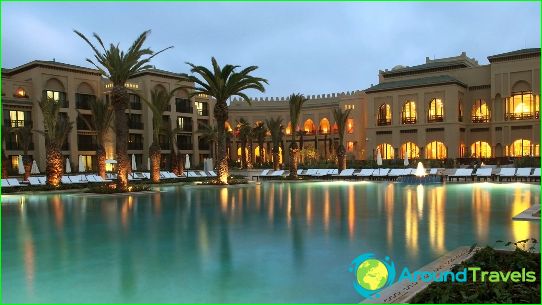 October - the middle of autumn ... This month is ideal for the long-awaited trip to Morocco, because the weather can be called ideal.
October weather in Morocco
Warm and sunny days continue to delight travelers. The heat and stuffiness in the past. Temperature depends on the province, because it is caused by difference of relief.
Marrakech can be + 27 ... + 28C during the day and in the firstdecade of + 30 ... + 31C. The air cools the night and + 15 ... + 19C. In Agadir, the temperature fluctuations in the night is + 15 ... + 26C. This difference is explained by the fact that close to a desert location. Atlantic resorts, which include Essaouira, Casablanca and Rabat, do not allow you to enjoy a real warmth. The maximum temperature figures were + 23C. On the Mediterranean can be + 25C and + 17C during the day at night. In the mountains of the day can be a maximum of 12 degrees.
Precipitation in the northern regions of different frequency. However, in other areas, the maximum number of rainy days in Morocco is 5, so the umbrella is not in need.
Holidays and festivals in Morocco in October
In October, there are numerous fall festivals, which are dedicated to the end of the harvest.
More than one million date palm trees growing in a smalla city that is called Erfoud. Once the harvest was a success, the real fun begins. Festival organized by the Berbers, who entertained for three days. Everybody can see the traditional dances and enjoy the beautiful music. Mandatory part of the celebration is the tasting of dishes, which are used for the preparation dates.
In some years, the Fez Festival heldculinary arts, which allows to evaluate the dishes prepared by talented Moroccan and Western chefs. Both festivals attract many people.
Prices for a trip to Morocco in October
Holidays in Morocco in October is possible for people withdifferent financial capabilities. The savings can be achieved by reducing the tariffs for air tickets and hotels. Despite the fact that the tourist flow becomes less, virtually all hotels are filled, and the organization of the trip it is important to take care in advance.
Enjoy pastime in Morocco in October, because this is the month is considered one of the best!
Photos vacation in Morocco