Airports Nepal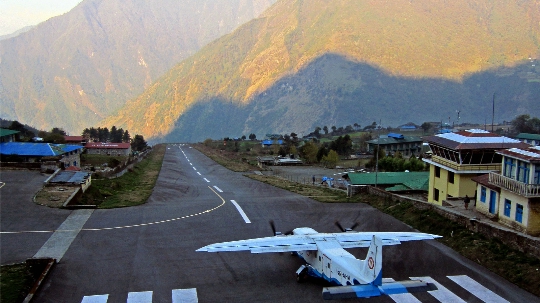 Nepal called roof of the world, because its smallthe territory is concentrated the vast majority of the highest peaks on the planet. And because one of the main means of transportation for a long time was the aircraft in the country. Airports in Nepal - is impressive list of dozens of sites, among which the largest is the capital.
No direct flights between Moscow and Kathmandu NoYou can get here only with connections - in Qatar, Delhi and Istanbul. Experienced travelers advised to save to fly to the capital of India, and from there to get to Nepal by road. If the financial component is not important, the most convenient way is to buy a ticket on the connecting flight Moscow - Kathmandu, the airline Qatar Airways. Travel time is not less than 15 hours.
The international airport in Nepal
The right to take flights from abroad has onlyone air port in the country, located 5 km east of Kathmandu. The city where the airport is located, lies in a valley at an altitude of 1300 meters above sea level.
Air Tribhuvan harbor was built inmid-twentieth century, and initially it "Vzletka" was a grass field. Today, the capital of Nepal Airport has two terminals - domestic and international flights. Private - for VIP-persons - provides a comfortable waiting flight business class passengers.
Airlines and destinations
Despite the small size of the airport, he receives daily flights to several tens of world importance airlines:
The only way to fly in the European direction - Turkish Airlines wings.
China Southern Airlines and Air China depart from Beijing, Lhasa, Shanghai, Taipei and Guanchzhou.
Qatar Airlines, Etihad and FlyDudai connects Nepal with countries Persidskigo Bay.
Malaysia Airlines aircraft, Korean Air and Thai Airways fly to Southeast Asia.
Air India, IndiGo and SpiseJet perform many regular flights to cities in India.
En Nepal Airlines NepalAirlines has in its schedule of regular flights to Bahrain, Bangkok, Colombo, Dhaka, Dubai, Hong Kong, Singapore, Tokyo and Bangalore. Domestic flights of the carrier interconnect the various points on the map on the territory of Nepal.
Transfer and Services
A bus company provides Sajha Yatayatregular inter-city transportation and shuttle service between the airport and the cities of Nepal, Kathmandu, Bhaktapur and Lalitpur. The bus stop is located at the exit of the international terminal. The machine should be up to the bus station the Nepalese capital, travel time is about half an hour.
Taxis are very cheap in Nepal, and a rack for his order and advance payment is located in the arrivals hall.
Spare airfields
Small airports are located throughout Nepalcountry, but when planning flights, should lay enough time - because of unfavorable weather conditions, flights are often delayed or canceled altogether.
Photo