Areas of Kathmandu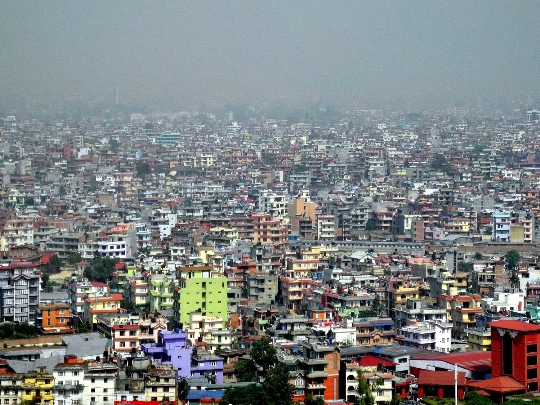 Kathmandu Districts are represented on the map Nepal's capital - a detailed familiarity with them will allow tourists to plan your holiday successfully.
The names and a description of the Kathmandu district
Tourist area of ​​Thamel: represented by narrow streets, walking along which travelers can otovaritsya in small shops and craft workshops, exchange currency at the relevant offices have fun in the local clubs.
Historic center (Durbar Square, to enterin the area need to buy a ticket valid for the day): attention of tourists deserve attractions in the form of temples Bhagwati (recommended to look at the goddess Bhagwati deity installed here), Jagannath (on supports its roof you can see the erotic carving), Kumari Ghar (Temple is interesting, that here lives a girl, which is the embodiment of the goddess Taleju - you can see the 1 time per year during the procession, in which it participates, and even here it is necessary to examine the window, decorated with decorative carvings), Kakeshvar (the lower part of the temple - a reflection of style "Newari" and the upper - Indian "Shikhara") Kasthamandal (3-storey temple; its main shrine - the footprints of the holy hermit Gorakhnath; at the corners of the temple are placed statues of the god Ganesh in 4 of its manifestations, which is to admire), Taleju (the height of the temple, set 12-step basis - 35 m), the Old Palace (entrance to the palace, "guarded" stone lions - each of them seated god Shiva and his wife Parvati; he has 10 yards, the most famous of which is the yard Naz - there Nepalese monarchs were crowned), Columns Pratap Malla (immortalized in the statue of the king, sitting surrounded by wives and sons). In addition, the Durbar Square regularly invites guests to participate in festivals - festive events dedicated to the age-old traditions of the Nepalese.
Tundikhel Neighborhood: This green area has a fleet Ratna and open-air theater; here are held the celebrations, parades, festivals and sporting events. In Tundikhel serves to explore the Dharahara tower (its height - 60 m), at the foot of which is to admire gold fountains (do not forget to take photographs in the company of friends or family on their background).
Where to stay tourists
If you want to stay in an authentic place? Engage in the search for hotels near Freak Street. Not far from the historic center of Kathmandu (500 m), tourists can stay in "Shanker Hotel" (a comfortable 4-star hotel).
Interested in accommodation facilities close to the airport? Pay attention to the "Radisson Hotel Kathmandu" (5 km to the airport, excellent service + the availability of the pool and the bar next to it).
can be removed if desired number in the mediaAccommodation in the Thamel district (offers budget hotels). It is worth noting that despite the higher food prices in the region, the situation with the hygiene situation here is much better. In Thamel tourists can come "Nirvana Garden Hotel" (happy guests free internet).
Photos of Belgrade area