Nepal Flag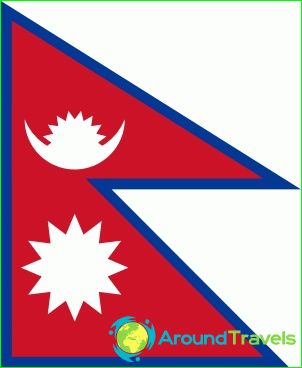 The national flag of the Federal Democratic Republic of Nepal was approved in December 1962. This symbol of the country is an integral part of it, along with the coat of arms and anthem of the state.
Description and proportions of the flag of Nepal
Flag of Nepal - the only precedent in the world,when the flag is not a traditional rectangular shape. It is a combination of two triangular pennants, each of which represents one of the branches of the Rana dynasty. This name rule Nepal for a hundred years since the beginning of the XIX century.
The main field of the flag of Nepal has a bright redcolor, and on the perimeter of a complex geometric shape of the flag is bordered by a bright blue outline. The flag of Nepal inscribed two symbols that are important to residents of the state. Upper pennant contains a stylized image of the moon, which is a horizontal crescent moon crescent with a star in his "boat". At the bottom of the flag pennant with white applied dvenadtsatiluchevaya star that represents the sun. These symbols of the stars on the flag represent the hope for Nepal's long existence of the state, because the sun and the moon, according to the Nepalese, have always been, are and will be in the sky.
The symbolism of the moon and the sun and repeated inState Emblem of Nepal. He was crowned under which the footprints Gorakhnath god depicted. On either side of them - crossed the state flags of Nepal and nepaliyskie knives - kukri, which serve as a symbol of courage and a willingness to help your neighbor.
Nepal Coat has images and othernational symbols and treasures. On it are inscribed the words "Mother and Motherland is more important than the kingdom of heaven" are the motto. The coat of arms can be seen symbolic image cow and pheasant, the Himalayas and the geographic contours of the state. Armed soldiers on the sides of the bottom of the coat of arms symbolize the readiness of Nepalis to defend their homeland and the Buddhist temple recalls the importance of religion in the life of every person and of fidelity to the ideas of the Buddha.
Red on the Nepalese national flag - is the country's national color, and the blue border is peaceful coexistence with all its neighbors.
The history of the flag of Nepal
State flag of Nepal was adopted at the end of1962, when the country adopted a new constitution. The main law of the country declared a return to absolute monarchy, which persisted for almost three decades.
Photo Nepal flag