Nepal Resorts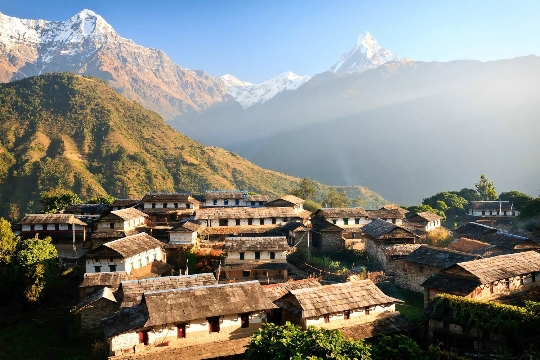 This small Asian state has fullthe right to be "the most-most" because of its unusual geographic characteristics. Literally sandwiched between the two most populous world powers - China and India - it is the highest on the planet. It is located in Nepal's Everest and several other peaks, whose height exceeds 8000 meters. Almost half of the territory of the Federal Republic is at a height of more than three kilometers above sea level, which makes the stay here is not too easy, even for the physical endurance of man. Resorts in Nepal, in the usual sense of the word, no. It is assumed here to indulge in the pleasures of another sort. For example, learn to meditate on special courses to advance in yoga, learn to conquer the mountain tops or challenging mountain bike routes.
With views of Mount Everest
A great way to get acquainted with Nepal - a journey through its national parks. They are under the auspices of UNESCO and represent a natural area, the likes of which is no longer anywhere in the world:
Park Sagarmatha - the seven highest peaksHimalayas, among which three peaks shot up into the sky for more than 8000 meters. Translated from Nepali "Sagarmatha" means "mother of the gods," and that's what the locals call the Everest. Magnificent and stunning views of the highest peak of the world with open viewing areas of the park.
Asian rhinos and Bengal tigers arebecome models for the photo if safaris in Chitwan National Park. Once the former royal hunting grounds, today this park is a World Heritage Site by UNESCO and a favorite place for leisure travelers. Resorts of Nepal it is difficult to call, rather, this park - a place for active hiking, trekking and wildlife viewing. By the way, a safari in Nepal - is not hunting, and riding on elephants and familiarity with the wild nature and its inhabitants.
The deepest mountain valley on the planet sharestops in the National Park Annapurna. At the bottom you can find fossilized clam shells, because the age of Kali Gandaki valley is much more than even the Himalayas themselves. In ancient times the valley was a road from Tibet to India, in which trading caravans passed, and today the locals have successfully engaged in gardening. Apples are grown in the national park Annapurna, for decades come to the table of the English royal family.
Photo