Trip to Nepal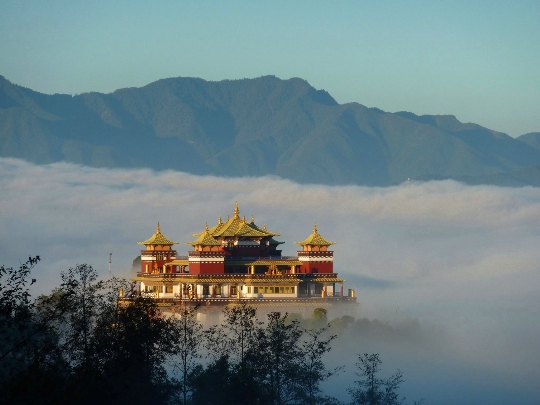 Nepal - a country with a small territory, butit does not prevent the country to take a huge number of guests. It is worth to remember that in Nepal there are eight highest peaks in the world. And one of them - the legendary Qomolangma (Everest). Besides being able to enjoy this beautiful trip to Nepal will give bright smells of spices, jungle, rice fields and countless temples, stupas and meditation centers.
Public transport
The primary means of travel to Nepal -buses. The routes connect with each other almost all the localities of the country. But the greatest part of the road connecting the capital to the suburbs and areas particularly suitable for climbing. There are both day and night flights, as the buses move at a very slow speed.
Domestic ply three types of buses:
Conventional. Tickets for these are not enough, but it is always crowded with cars as passengers transported as baggage poultry and small livestock. Air conditioning is not available. Sometimes the space in the cabin is not enough, but because of the people traveling, sitting on the roof. The technical condition of vehicles is far from perfect.
Modern vans (tourist minibus). About half the price higher than the normal bus.
Air-conditioned bus (tourist soach). When compared to conventional, the cost is about three times higher, but even in this case low.
Ticket for tourist bus can be purchased atany travel agency, and on conventional machines - at the box office bus terminals. It is important to remember that in the peak tourist season tickets are best booked in advance for about three days before departure.
In the capital, Kathmandu, there are buses,trolley buses, taxis, rickshaws and taxis. But the timetable is almost never enforced, and the machines themselves are always crowded. Fares must be transmitted to the conductor.
Taxi
The most convenient way for the capital and its surroundingstravel by taxi. Day fare is composed as follows: landing - 7 rupees; for every 200 meters - 2 rupees. Payment must be carried out on the counter, but the taxi drivers and may offer a fixed fee. Most often, in this case the numbers are very high. Night tour (after nine pm) will cost 50% more expensive.
airlift
The country is small, but there is greatdevelopment of the domestic air traffic. Total 46 airports in the country, but in the rainy season flights take only a few. There are of airport facilities, working exclusively in the dry season and the host aircraft capable of taking off with almost space.
Fares are quite high. Flights often canceled due to bad weather. Used twin-engine aircraft that can accommodate no more than ten passengers.
Photo