Norwegian Sea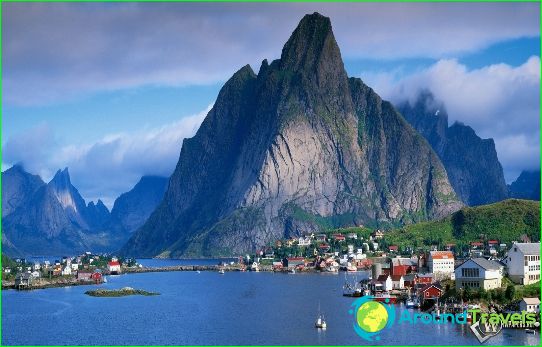 In the Kingdom of Norway the world map takes placeon the back of the famous "dog", which is similar to the Scandinavian Peninsula in Europe. Land owned by hundreds of islands scattered along the coast of the Norwegian Sea. By the way, the question of what the sea in Norway, maps correspond precisely: their three - North Sea, Barents and Norwegian.
In the Wild North ...
Norway and the capital Oslo West have access to theNorth Sea. It belongs to the basin of the Atlantic and is the border with the Arctic Ocean seas. Sea area is a little over 750 thousand sq. m. km and its average depth is about one hundred meters. For the Norwegian North Sea is one of the most important fishing areas, as it was in its waters are stocks fishing halibut and Atlantic cod. On the Dogger Bank mined herring, and a little to the east is an industrial shrimping. The sea has a weight and as a crossroads of trade routes, and its port handles a fifth of all traffic in the world, moved by water.
On the outskirts of the Old World
North Sea flows into the Norwegian, which is notonly significant in size, but also has an order of magnitude greater depth. Average her figures are within 1500 meters, and the maximum distance from the surface point is located at around 3970 meters.
Main Tourist AttractionsNorwegian Sea - its famous fjords of the so-called narrow rocky bays with steep banks, deep jutting into the land. The most popular Sognefjord has a length of 200 km and its maximum depth is 1300 meters. This natural landmark is the second largest in the world in size among his own kind, and Norwegians themselves called him the king of the fjords.
When asked what the sea washes over Norway at thenorth, maps meet - Barents. It is enough salt - up to 34%, and not very deep - up to 600 meters. The water temperature in the Barents Sea in summer and even in the most southern point of not more than 12 degrees.
Interesting Facts
The characteristic relief of the bottom of the North Sea -alternation of shallows and the depth of cut. The largest shelf sea has a depth of about 20 meters, and warms its water serves as a habitat for commercial fish.
Only the south-western part of the Barents Sea is free of ice during the summer season.
The name of the Norwegian Sea, as well as Norway itself, derived from the word, signifying the ancient Scandinavians way north.
Photos coast of Norway