Airport in Bergen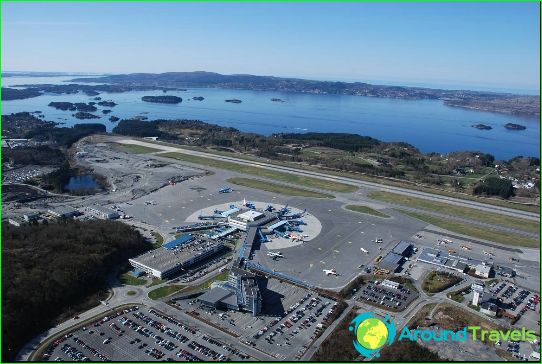 Bergen Airport is about 15kilometers from the center of the eponymous town in Norway. This airport is the second most important in the country after the capital of Norway airport, which is located in Oslo.
The airport has only one runwaystrip length nearly 3 kilometers. It annually serves more than 5.5 million people - the second highest in Norway. From the airport is working more than 20 airlines that connect it to many European cities.
services
Bergen Airport offers passengersall the necessary services on the road. For hungry passengers cafés inside the terminal and restaurants that will not leave anyone hungry. In addition, guests can visit the airport stores that offer various goods: souvenirs, foods, perfumes, etc.
Also on the territory of the terminal operate ATMs, post office, luggage storage, banks, currency exchange, etc. The terminal building has a wireless internet access.
If necessary, passengers can seek medical help in the clinic, as well as buy the necessary medicines in a pharmacy.
For passengers with children have a mother and child room. For business passengers at the terminal it operates a separate waiting room Superior, as well as a conference room and a business center.
For relaxation, the airport is ready to offer the services of a four star hotel Clarion Hotel Bergen Airport.
In addition, it is worth noting that the tourist office and has parking for vehicles operating on the airport.
How to get to the city
As mentioned above, the airport isabout 15 kilometers from the city and from there transport links. Passengers can reach the city center by bus №23,56 and 57, which in 30 minutes dovezut them in Bergen. In addition to the city can be reached by car, following the highway 580 / E39.
Alternatively, you can offer a taxi, which is for a higher fee will provide a comfortable ride anywhere in the city.
Photos Bergen Airport