Airport Kirkenes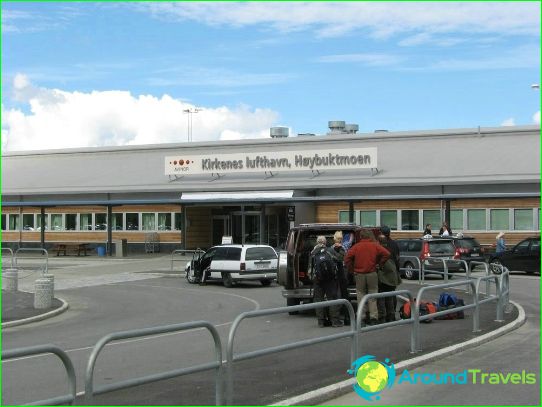 One of the airports served by Norwegian town of Kirkenes. It is located about 10 kilometers from the city center. The airport is operated by Avinor.
Aircraft maintains only onerunway whose length is 2115 meters. In addition to regular flights to the city of Norway, here are served by seasonal charter flights. In the past year it has been served about 300 thousand passengers.
services
Kirkenes Airport is not very large as,however, and the city itself. However, here you can find all the necessary services on the road. On the territory of the terminal has a cafe where you can eat before the flight, as well as to buy food or drinks.
Also, the terminal offers a spacious lounge with comfortable seating. For passengers traveling in business class, there is a separate waiting room.
The toilets are always clean, in addition, there are special toilets for the disabled.
Unfortunately, on the territory of the terminal is not set aside special areas for smoking, it can be done only on the street. Then at the entrance to the terminal would have to go through re-examination.
The airport offers passengers on the personaltransport ample parking. However, it should be said that the prices are quite high. If the transfer to the Russian ruble, the cost of parking per day will be about 700 rubles.
We should also say on aircraft maintenance, airport in Kirkenes is able to cater flew the plane and re-send it in 30 minutes.
Also, the airport is ready to provide a set of standard services: ATMs, currency exchange, post office, luggage storage, etc.
Future plans
In the period from 2015 to 2020, plans to hold a series of upgrades. The plans include: the expansion of the passenger terminal, construction of a new fire station building, etc.
In addition, the airport plans to serve more residents of Murmansk. The airport should be an alternative for them.
Improving the quality of the runway will allow for more comfortable working with ponderous courts.
On the entire project is scheduled more than 40 million dollars.
Getting there
From the airport to the city can be reached by bus. More expensive, but comfortable option - a taxi.
Photos Kirkenes Airport