Airports in Norway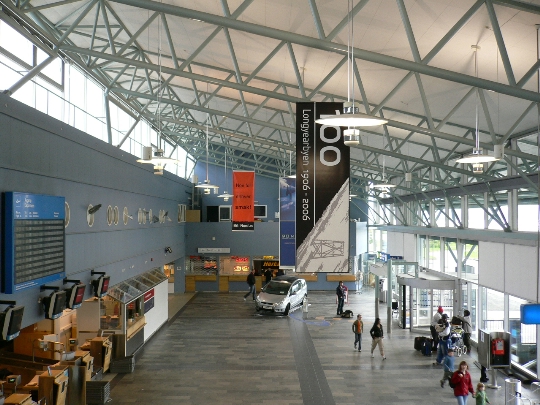 In the country of fjords, Russian travelers oftenfall into the sea within the cruises in Scandinavia, but also airports in Norway are ready to accept all who wish to enjoy the beauty of the north. Direct flights from Moscow to Oslo SAS and perform "Aeroflot" and the time spent in flight, will not exceed 2.5 hours. European carriers often offer cheaper options. In this case, the flight on Finnair or Estonian Air wings will take at least 4 hours.
The international airports in Norway
In addition to the capital Oslo Airport Garder, international status is assigned to the Viking country even more:
Bergen Airport Passenger Terminal is located12 km from the city center to the south-west of the country. Every day, dozens of flights land here is not only attributed to the airfield Bergen airlines SAS and Norwegian Air, but also in many other European carriers. Hence fly board KLM, British Airways, Finnair and Wizz Air to London, Helsinki, Stockholm, Amsterdam, Reykjavik - more than 60 destinations. Details of the air harbor on the site - www.avinor.no/en/airport/bergen.
Norway Stavanger Airport serves more than 30international destinations, including London, Paris, Prague, Amsterdam, Barcelona, ​​Warsaw and Riga. City, where the airport is located in the south-west of the country and it is associated with the Oslo three dozen daily domestic flights. While waiting for departure, passengers can visit the aviation museum in the vicinity of the terminal. Site air harbor - www.avinor.no/en/airport/stavanger.
metropolitan area
The main air gateway of the country are built infifty kilometers north of the capital city and transfer to provide high-speed trains Flytoget, overcoming the distance in less than half an hour. Directly from the terminal you can go by train in Lillehammer - the capital of winter sports in Norway.
On the airfield in Oslo based nationalcarriers SAS and Norwegian Air Shuttle, and among the international destinations - not only the most European capitals, but also the countries of Asia and North America.
The area occupied by duty-free shops in the Norwegian capital's airport is the largest in Western Europe.
In addition to the main air gate of the capital Oslo Airport is served by two more:
Sandefjord, 110 km south of the city takeslow cost flights airlines Ryanair, Wizzair and KLM Cityhopper, carriers flying to Norway from Liverpool, London, Malaga, Bucharest, Sofia, Warsaw and Amsterdam. From the passenger terminal with frequent buses to the train station, which is 3 km away. There you can take a train to the capital and Lillehammer. Details are available on the site - www.torp.no.
Moss Rygge and Norway capital share of 60 km. In addition to Norwegian Air Shuttle airline is based budget Ryanair, operate daily flights to many cities in the Old World. With the Oslo terminal connected convenient rail links.
Photo