Oslo - the capital of Norway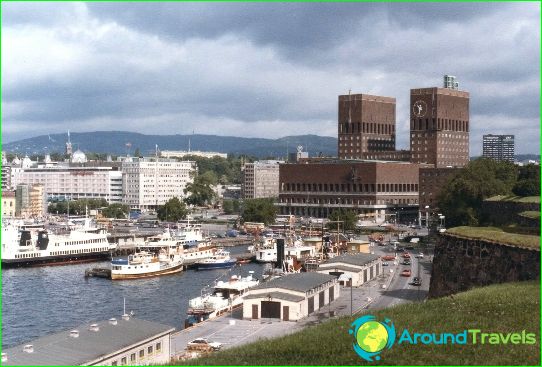 The capital of Norway, Oslo, reallyunique. Despite the fact that the city's history goes back many centuries, most of the buildings of the capital were built relatively recently, and the hills are interspersed with forests and islands. Geographically Oslo takes another four and a dozen islands, each of which is extremely beautiful in its own way.
What to see?
Attractions are many, but let us start withChristiania area. Yet it is known under another name - Market Square, which is worn until 1958, when it was decided to rename it. Now it carries the name of the founders of the city - King Christian IV. He was personally involved in the design of the city. It forbade the king to build wooden houses in the capital, Oslo, so never burn out. Please note, strolling through the streets of the capital, they all have very straight lines. This feature of the city also owes its founder. fountain looks particularly interesting, as the royal gloves mounted on the area as early as the year 97 of the last century.
Be sure to look at the monument to the clip. The fact that it was conceived precisely in Norway. And the thought of her to bend this way to hold multiple pieces of paper, Johan Voler in 1899. Clip in Norway was used for its intended purpose until the Second World War, and then became the hallmark of the underground. Those who came in the 40 th year of the Nazis to power, have completely banned all attributes (including buttons) that contains a reminder of Haakon VII of, the former king of the country. This clip has reminded people of the country initials of the king, but because it began to wear on his lapel, pockets and collars of shirts.
Oskarskholl Castle served as the residence of the rulingmid-19th century monarch Oscar I. The castle is situated on a slope and from its windows offer stunning views of the sea space. The castle, built in neo-Gothic style, designed by Johan Nebelog. It is also fully developed interior of the palace, furniture designs. The park surrounding the castle is also the work of his hands. In 2009 Oskarskholl has been completely renovated. And now, while walking through its halls you can see how the Norwegian kings lived.
Forest Oslomarka geographically located withincapital Cities. Here you can go skiing in the winter and in the summer - mountain biking. You can get here on any form of public transport, so the park is very popular and the inhabitants of the capital, and the tourists. It is surprising, but in a forest inhabited by wild beasts. Here you can meet beavers, lynx, deer and even moose.
Oslo - Review of attractions
Photo