Metro Oslo: map, description, photos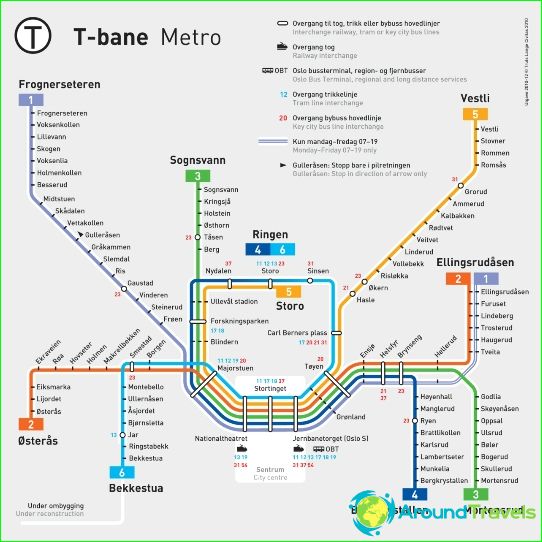 Driving Oslo Metro
Metro Oslo (Tunnelbane - T-Banen) consists ofsix lines, which pass through the city center and then diverge, and 95 stations, 16 of which are underground or in enclosed structures. The total length of 80 km of lines. Daily ridership of 226,775 passengers (data for 2012).
The idea to organize a citywiderapid transit in Oslo, appeared in 1912; and in 1919 the city had the first tram line. At the same time, has emerged the idea of ​​building underground tunnels, and the first underground tram station, but in the future from them for various reasons, was opened in 1928, it was decided to abandon. The full metro was opened after the Second World War as part of a program to rebuild the city's infrastructure. May 22, 1966 was completed the construction of the tunnel close to the eastern railway station and the subway Oslo launched a passenger.
Interestingly, the Oslo subway tunnels are routed throughrock, so their walls are of natural origin, they are only in places treated with cement. For the same reason, some metro stations preserved natural surroundings - they look like a natural cave. Input-output stations are stelae with sign T in the ring. At the stations installed scoreboard, which indicate the route and time before the train's arrival. The names of the stations to announce trains machinists.

Hours Oslo Metro
Oslo Metro runs from 5:30 am until 0:30 at night. On Saturdays and Sundays from 1:30 to 4:00 on city buses ply at night. Intervals of trains during peak hours of 2-3 minutes at the usual time of 15 minutes, on weekends - 30 minutes.

Tickets in Oslo metro
Tickets in Oslo metro are a card withmagnetic stripe, they are sold in vending machines and ticket offices at stations and act in any public transport, the capital of Norway. Ticket price is fixed, the ticket is valid for an hour after the first pass. No turnstiles at the stations.
Photos Oslo Metro
Driving Oslo Metro